Yes, winter is approaching and if you happen to face some tricky road conditions at this time of the year, you'd better start thinking about fitting your car with proper tires. In fact, winter tires are now mandatory in Quebec, Northern Ontario and certain parts of British Columbia.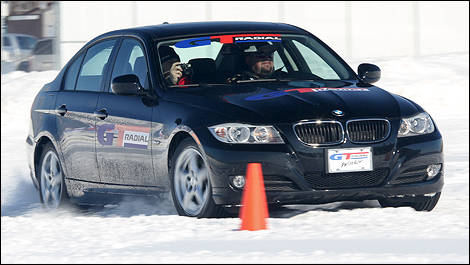 GITI Tire Canada offers two new winter tires for drivers in the Great White North – the Champiro IcePro and Champiro WinterPro. (Photo: Luc Gagné/Auto123.com)
GITI Tire Canada offers two new models under the GT Radial brand. Both the Champiro WinterPro and Champiro IcePro deliver good performance at an affordable price.
Company executives held a full-day demo and a series of tests in front of North American journalists this past February in Quebec City. It was minus 11.6 degrees Celsius, but violent winds boosted the chill factor to Siberian levels. Boy, it was freezing!
The IcePro is entering its second year on the market; the WinterPro its first. This will be the first Canadian winter for these two Chinese-made tires, however.
Modern design
The GT Radial tires benefit from a modern design featuring a silica-based tread compound called Nanotek, which makes use of rubber polymers. As a result, the tires provide good traction on ice while ensuring optimum performance between minus 10 degrees and 5 degrees.
''The tread compound mix represents the key difference between winter and all-season tires. It's the reason why the latter start to lose their grip at 5°C,'' explained William Estupinan, GITI Tire's Director of Technical Service – Americas.
IcePro: for rough conditions!
During the demo event, members of the media conducted brief dynamic tests with a couple of vehicles equipped with Champiro IcePro tires – first behind the wheel of a Ford Focus on an ice skating rink, then with a studded Toyota RAV4 and non-studded BMW 3-Series in deep snow.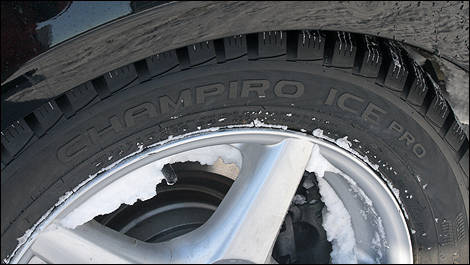 The GT Radial Champiro IcePro can receive studs. (Photo: Luc Gagné/Auto123.com)