The next generation of the Porsche Boxster, scheduled for the 2013 model year, will mark a radical departure from the outgoing edition. Its new lightweight body and completely revised chassis will improve driving dynamics and performance while reducing fuel consumption by 15 percent, the automaker says.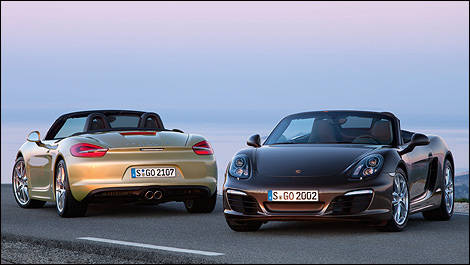 Photo: Porsche
Both the Porsche Boxster and its sportier S variant will use a direct-injected flat-six engine. Displacement and output will amount to 2.7L and 265 hp for the base model; 3.4L and 315 hp for the Boxster S.
Buyers will have a choice of a 6-speed manual gearbox and Porsche's famous 7-speed dual-clutch PDK transmission. The latter will allow faster accelerations and deliver higher fuel economy – 0-100 km/h in 5.7 seconds and 7.7 L/100km for the Boxster; 5.0 seconds and 8.0 L/100km for the Boxster S.
The 2013 Porsche Boxster will hit the market this spring.