The Tesla Model S has not only received an overall 5.4 Star rating, it has received top ratings in every category, without exception.
Ratings above 5 are not released by the NHTSA
, but they are sent directly to the manufacturer. Approximately 1% of vehicles have received such high ratings.
The Model S beats out every U.S. built vehicle, SUV's and minivans included, in lateral, front and rear, and rollover testing. In the latter case, the low center of gravity created by the floor-mounted bank of batteries makes the Model S extremely stable, enough so in fact as to force the testing engineers to get creative in order to find ways to flip over the car.
Tesla performed its own crash tests based on the NHTSA tests in order to find some of the weaker points of the Model S. The manufacturer then proceeded to improve these weaknesses in order to score 5 Star ratings, whatever the challenge.
The
Volvo S60
, which also achieved a 5 Star rating, retained 7.8% of the driver's residual space in side impact intrusion testing. The Tesla Model S score? 63.5%. What's more, the equipment used to test roof strength failed at 4 g's, which means that a tesla Model S can support four of its kind on its roof without bending the (B) pillar.
The competition better be on their toes, as Tesla is closing in at top speed!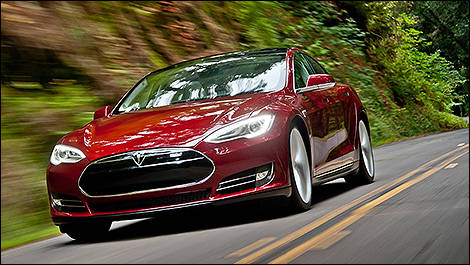 Photo: Tesla