The National Highway Traffic Safety Administration's decision to close its investigation is consistent with the results of our internal testing and assessment. The engineering enhancements that General Motors announced on Jan. 5, 2012 will provide additional protection for the battery, minimizing the risk of a post-crash fire in the days and weeks after a severe crash and rollover.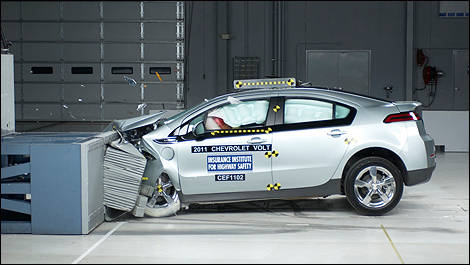 Photo: IIHS
The voluntary action that GM is taking is intended to make a safe vehicle even safer. In fact, the Volt has earned top safety ratings from key third-party organizations such as the Insurance Institute for Highway Safety, which designated it a Top Safety Pick.
GM is proud of the technological innovation the Volt represents. We appreciate the confidence our Volt customers continued to provide during the investigation. Our overriding commitment will always be to provide our customers with the best ownership experience and peace of mind in the industry and we're focused on delivering that every day.
As reported by General Motors