As yet another winter storm tightens its grip on a good part of the country, Nissan unveils two special vehicle concepts that will be on display as of Thursday at the 2018 Chicago Auto Show.
Nissan 370Zki
The first is a truly unique snowmobile version of the 370Z Roadster, dubbed the 370Zki (pronounced, Nissan helpfully explains, "3-70-Ski"). It features the same 332-hp engine as the roadster, but replaces the wheels with front skis and rear snow tracks. Lest you have doubts, the vehicle works marvellously well: the company has already put it through its paces on ski slopes in Wyoming – check out the video below!
To make room for the DOMINATOR tracks, the engineers first had to remove the whole drivetrain, then widen the rear-wheel passages, modify the exhaust system and reroute the brake lines. A custom kit was created to allow for lifting the vehicle three inches higher off the ground and for the inclusion of special mountings for the rear suspension springs as well as three-inch custom spacers for placing the snow tracks on the wheel hubs.
In front, the suspension was similarly modified in accordance with the new ground clearance. Specially designed adaptors were created to optimize travel and rotation of the front skis. It was also necessary to custom-mount the engine and transmission and include a front skid plate to protect the undercarriage when riding over the snow.
As you can see, the body features a unique design, and the headlights are yellow-tinted to resemble ski goggles.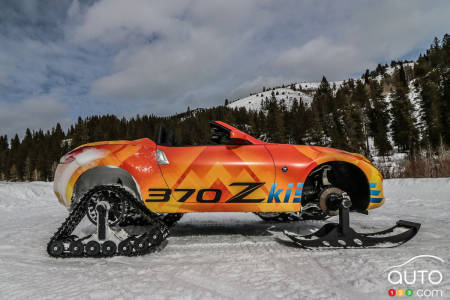 Nissan Armada Snow Patrol
The other winter goodie to be showcased by Nissan in Chicago? A specially customized Armada SUV that features higher ground clearance (by three inches), extreme 35-inch off-road tires (mounted on 20-inch wheels), an oversized front bumper with a grille protector bar, running boards that serve to protect against rocks and other debris, and, on the roof, a double-row LED light bar and a roof rack. This adds up to a perfect partner for you and seven friends heading out for a mountain adventure.
Even the name has been carefully chosen, as it brings to mind the legendary Nissan Patrol, a large 4x4 specifically designed for off-roading. The new model's 390-hp V8 allows for towing up to 8,500 lbs, and the front winch mount can handle up to 12,000 lbs. As with the 370Zki, the Icon Image Graphics firm developed a customized exterior look for the model.
So which of these unique concepts would be your choice for taking on winter at its most ferocious?