As you may know, ''Art Cars'' serve as four-wheel canvases for renowned artists. Now comes the news that the
Nissan Cube
just received a similar treatment.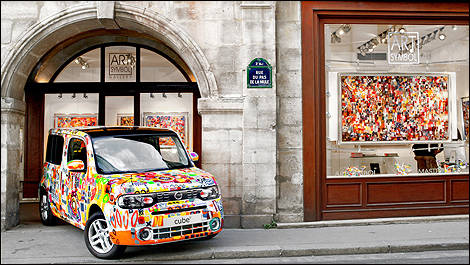 Photo: Nissan
From November 30, 2010 to January 9, 2011, the Art Symbol gallery in Paris is showcasing a unique Cube painted by Micha Tauber. The exhibit called ''Itinéraires privés'' (private paths) presents a highly-colourful patchwork based on Nissan's little wagon.
Micha Tauber was born in Holland in 1967. Twenty years later, she studied at the University of Fine Arts of Treves in Germany after which she moved to France. Today, she's known for her timeless paintings inspired from an imaginary world in which all is sensuality and magic.
With a knack for blending colours and capturing the joyful emotions they convey, Tauber was reportedly attracted to the boxy shape and subtle curves of the Cube. Her creation is a true masterpiece in line with the famous BMW Art Cars.
BMW, the pioneer
The Art Car phenomenon indeed stems from the Bavarian automaker. Since 1975, 17 different BMW models have been transformed by such legendary artists as Alexander Calder, Frank Stella, Roy Lichtenstein, Andy Warhol and a dozen others.
Last June, American
Jeff Koons became the latest to create a BMW Art Car
, more specifically one based on a M3 GT2 that actually raced in the 24 Hours of Le Mans.
… or is it the Beatles?
Art Cars have been around for arguably longer than that, mind you. They might even have originated from... the Beatles! In 1967, John Lennon commissioned British coachbuilder J.P. Fallon to paint psychedelic motifs on the body panels of his stately Rolls-Royce Phantom V.
The work generated plenty of controversy, with purists of the ultra-high luxury brand heckling Lennon in the streets. One day, in downtown London, an old lady even dared to attack the car with all eyes watching. Her weapon? An umbrella!
The perception of Art Cars has obviously changed a lot since then. Many of them even found their way inside the most prestigious art museums on the planet, including in Los Angeles, New York and Mexico.
Artistic innovation or marketing ploy? Many other car makers have featured Art Cars over the years, even in Canada. In 2009, Nissan chose this original medium to illustrate the business alliance between Infiniti and Cirque du Soleil. Montreal-based artist
Heidi Taillefer executed a fresco on a brand-new G37 coupe
.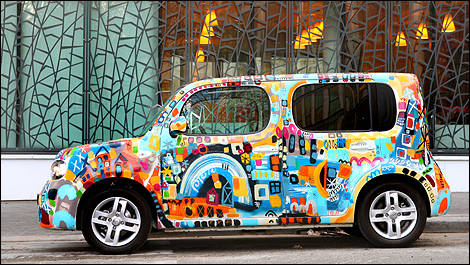 Photo: Nissan