As previously reported, the next-generation Nissan LEAF is expected to be launched later this year, with fresh, ultra-modern styling and a lot more range than the current car's 172 kilometres.
For now, let's look back at the company's early EV roots…
During the 1940s, Tachikawa Aircraft (later Tama Cars Co.) embarked on the development of electric vehicles. One reason for this was the extreme shortage of gasoline at the time.
In 1947, the company succeeded in creating a prototype 2-seater truck with a 4.5-horsepower motor and a new body design. It was named "Tama" after the area where it was produced.
Next, the company created its first passenger car. With two doors and seating for four, it boasted a top speed of 35 km/h and offered a cruising range of 65 kilometres on a single charge. The former aircraft maker employed many unique ideas in the design and construction of the Tama, such as its two battery compartments in the cabin floor (one on each side). The latter were fitted with rollers so that used batteries could be quickly exchanged with freshly charged ones.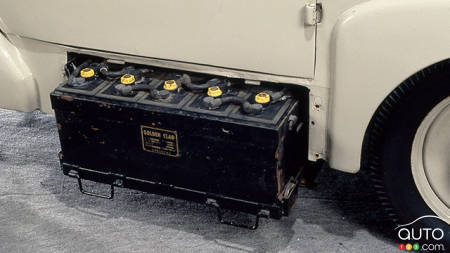 The Tama came in passenger car and truck models, and both were available in gasoline and electric versions. In June 1948, Tachikawa Aircraft changed its name and commenced operations as Tokyo Electric Cars Co. Tama Electric Cars Co. became Tama Cars Co. These two companies were responsible for the Tama Junior (1948 compact passenger car) and Tama Senior (1949 medium-size passenger car). In 1952, it became the Prince Motor Co., Ltd, and in 1966 Prince merged with Nissan.