American entrepreneur Gene Haas, who has been granted a spot on the Formula 1 grid, hopes to divulge the name of his V6 turbo hybrid engine supplier soon.
Haas, who heads Haas Automation (producer of CNC machine tools), also runs the Stewart-Haas Racing NASCAR Sprint Cup team.
Gene Haas, his technical director Gunther Steiner and several members of his NASCAR team were seen in the paddock of circuit Gilles-Villeneuve this past weekend.
They were also seen in the Ferrari hospitality and garage; promoting rumours Haas Formula could get its power units from the Italian team.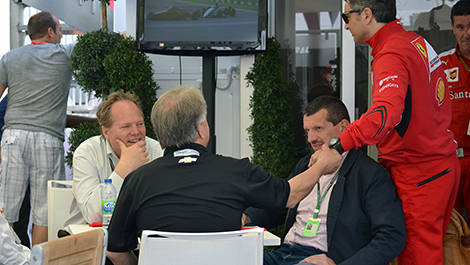 Gene Haas shakes hand with Ferrari boss, Marco Mattiacci, with Gunther Steiner watching. (Photo: René Fagnan)
"We haven't signed a deal yet so I don't want to overstep my boundaries and put the cart before the horse. But we are in negotiations and hopefully we will have something in the next few weeks," Gene Haas told
Sky Sports F1
in Montreal.
"We are not in discussions with Renault because they can't supply us with a complete transmission, and they already have four teams under contact", said Gunther Steiner.
"We think NASCAR is a great racing series in the US, but we are trying to expand our business overseas and we think that Formula 1 will help us there so that is the main process," Haas indicated.
Haas Formula expects to be on the F1 grid by 2016.