Following its world premiere in Shanghai this past July, the new 2019 Porsche Macan is making its European debut at the Paris Motor Show this week. Here are details and a photo gallery.
The new Macan now features a 2.0L 4-cylinder turbo engine with a maximum output of 248 hp and 273 lb-ft of torque, working in conjunction with a 7-speed PDK transmission. The new Macan can sprint from a stop to 100 km/h in 6.7 seconds, and has a top speed of 227 km/h.
In terms of its design, Porsche has renewed its SUV for 2019, notably through the addition of the three-dimensional LED light panel at the rear. Inside, occupants will benefit from the new fully interconnected Porsche communication management system with 10.9-inch touchscreen.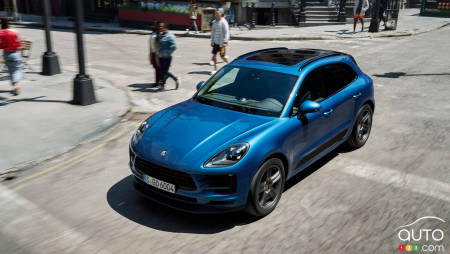 Porsche promises a more dynamic driving experience from its new Macan. The setting of the chassis has been optimized to offer improved comfort and increase driving pleasure. The different-sized tires on the front and rear wheels, as well as the intelligent all-wheel-drive Porsche Traction Management system ensuring improved driving dynamics.

Among the options being included to enhance the appearance and performance of the Macan, notable features include the GT sport steering wheel and the sport chrono package, which includes drive mode and Sport Response buttons integrated on the steering wheel, among other features. Porsche has also boosted its product offer in terms of comfort features, with the addition of a heated windshield and an air-quality improvement system that uses an air ionizer.
Porsche has made its Macan more personalizable for 2019, for example with the addition of four new colour schemes: Mamba Green Metallic, Dolomite Silver Metallic, Miami Blue and Chalk.
The new Porsche Communication Management (PCM) ensures constant connectivity and includes a number of digital functions. No surprise, the Macan features a typically Porsche central console, but it now integrates a larger 11-inch screen (compared to 7 before) in the redesigned dashboard.
New standard features include LED headlights, that PCM system with online navigation and the Connect Plus module, as well as an anti-theft alarm system with cabin surveillance.
Starting price for the 2019 Macan will be $55,500, and Porsche Canada is taking order on the SUV now.
2019 Porsche Macan