History/Description:
The Plymouth brand bit the dust some years ago—but it did leave one of the automotive world's most interesting and rare sports cars in its wake.
Photo: Plymouth
The Plymouth Prowler was a 2-seat, uber-retro street rod convertible sold in 1997, and 1999 through 2002. Unlike other Plymouth models, the Prowler was a division exclusivity—not a rebadged variant of some other Chrysler, Dodge or Eagle product.
Prowler launched with a manually-operated cloth-top roof, a 214-horsepower V6 engine, rear-wheel drive and a 4-speed automatic transmission. After a break from the market for 1998, Chrysler updated the 1999 model with a new 253-horsepower V6 engine attached to the same drivetrain. All models were standard with a 4-speed AutoStick automatic transmission.
Feature content included an Infinity audio system with CD changer, air conditioning, cruise control, power accessories and leather seats. An auto-dimming rearview mirror and leather-trimmed accents were also on board. Prowler rolled on 20-inch rear and 17-inch front alloy wheels, and weighed in at around 2,800 lbs.
What Owners Like:
Exclusivity is perhaps the largest draw to the Prowler, according to most owners. Production was extremely limited, and few cars turn heads as well. Fun-to-drive handling, dynamics, relative performance and a relatively comfortable ride are also highly rated.
What Owners Dislike:
Owner complaints include limited visibility, tight entry and exit with the roof up, road noise and limited practicality. Prowler also had very limited trunk space and limited width to accommodate wide-legged occupants. Finally, many owners wish for the availability of a larger and more powerful engine than the V6. Some have added performance modifications and even forced induction for more power.
Common Issues With The Used Plymouth Prowler:
Given the Prowler's limited sales volume and relatively tiny online owner's community, reliability-related information is sparse. Some owners reported issues with the factory stereo system, including hissing, static or blown speakers. Be sure the Prowler's factory stereo system works as expected on a test drive.
Premature suspension wear may also be a concern—so be sure to listen for any popping or clunking sounds on a test drive that could indicate a worn-out component. As with any sports car model, the condition of Prowler's tires and brakes should also be scrutinized. Visit a Chrysler dealership for an inspection ahead of your purchase for maximum peace of mind.
Check power windows for proper operation in both directions, ensuring the window regulators allow both to open and close fully. Be sure the air conditioner works properly and note any damaged or missing interior trim panels.
Prowler's driveline appears to be fairly solid and problem-free, though the 3.5-litre engine did suffer from occasional sensor problems in other applications. Additionally, a few reports of blown head gaskets have cropped up. Obviously, shoppers are advised to avoid a model that smokes or burns oil, and should investigate any check-engine lights that may be present.
The Verdict Of The Used Plymouth Prowler:
Though information is limited, a used Plymouth Prowler appears to be a fairly reliable, albeit extremely rare, used sports car buy. Shoppers set on owning a Prowler and able to locate a unit for sale are advised to make an appointment with a nearby Chrysler dealership for an inspection, and to opt for any extended warranty coverage available, where possible.
A well-maintained unit with full service records that's familiar to a Chrysler dealership is the safest bet.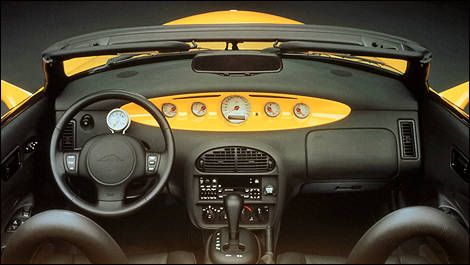 Photo: Plymouth