The Daewoo brand hit Canadian shores back in 1999 with big hopes of experiencing success similar to that of fellow Korean automaker, Hyundai. Fast forward a tad, and it's pretty clear that it didn't quite work out that way. After a few measly years of selling a small handful of models to us Canucks, the largely unsuccessful Daewoo brand packed it in and hit the road like a rejected Canadian Idol star.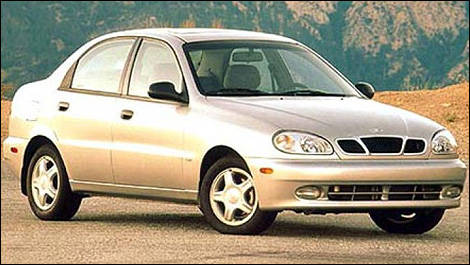 2000 Daewoo Lanos (Photo: Daewoo)
Today, Daewoo dealers have gone the way of the Beta Tape -- though the brand's cassette players and audio receivers are still commonly found in cottages, attics and garage sales across the country.
The
Daewoo Lanos
was the brand's 'bread and butter' car-- and came available as a half-decent looking three-door hatchback and a slightly clumsy looking four-door sedan. Power came from a 1.5 or 1.6 litre four-cylinder engine, making 85 or 106 horsepower, respectively. Given its size and power, the Lanos competed, to varying degrees, with models like the Echo,
Civic
, Escort,
Neon
and
Accent
.
Look for a five-speed manual or four-speed automatic transmission, as well as features like keyless entry, power accessories, fog lamps, tilt steering, a sunroof and a CD player.
Here's the problem. Since the Lanos was never a big seller, there's minimal information available in the typical online forums and communities where existing owners post comments, stories and opinions of their rides. Skimming through various road test articles on the Lanos from several publications, it seems that reviewers were less than taken aback by the model's performance, refinement or all-around execution.
Put simply, the consensus seems to be that though Lanos would prove cheap to buy and fuel, its poor driving dynamics, noisy ride and underpowered engine were major downfalls. For this reason, the Lanos appeals in the used market almost solely on price.
Have you found a really good price on a used Lanos? Can't justify the time or effort to investigate a more common and proven model like an Echo or Accent? Good luck-- and be sure to go through the standard used car checks.
First off, ensure the horn, all lights, all power locks and windows and the cruise control are in proper working order, if so equipped. Be sure the air conditioner blows cold within a moment or two of being turned on, and ensure all interior electronics work as expected.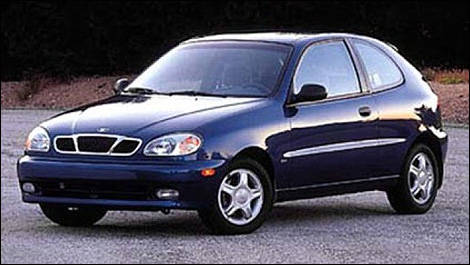 2000 Daewoo Lanos (Photo: Daewoo)