Few can argue with the overwhelming value of a minivan when it comes to affordably moving around families, their things and their pets. Sliding doors, plenty of space for the money, and plenty of versatility make a minivan a machine that's ready for anything -- including growing up with and adapting to the family that's made it their own.
The minivan segment isn't a huge one -- especially in light of the relatively recent influx of trendy crossover SUV models flooding the market. Still, numerous affordable, used minivan options exist. So, here's a look at a few of the most popular in terms of what owners say they love, and the more commonly reported problems they say you should watch out for.
Remember: Standard minivan checks should include the tires, brakes, liftgate struts, and power sliding doors (if equipped) on any model you're considering.
2005 to 2010 Honda Odyssey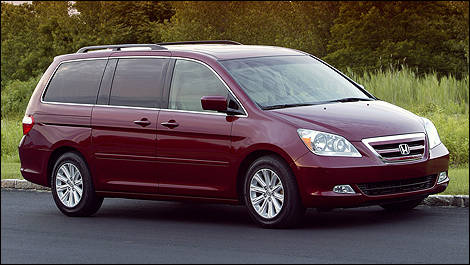 2007 Honda Odyssey (Photo: Honda)
The Draw:
Honda's knack for interior space optimization, reliability, and safety hit the minivan scene with this generation of the brand's popular Odyssey minivan. Standard V6 power and plenty of trim grades mean selection will be plentiful, and all models get over 4,170 litres of maximum cargo space. Owners comment positively on spaciousness, comfort, power output, and even fuel mileage. A useful navigation system and power sliding doors are among the most loved features.
What to Check:
Confirm proper operation of the power-sliding doors and power liftgate, if equipped. Any strain or non-operation should be called into pricing negotiations or repaired. Listen to and "feel" the transmission for any signs of shuddering as you drive gently up to highway speeds. This sensation could be a precursor to a failing torque converter or transmission mounts. Don't buy an Odyssey with this shuddering sensation without having a mechanic investigate. Finally, ensure the steering wheel maintains consistent, easy effort throughout its entire range of travel. Any "binding" or "lumps" in power steering effort could indicate a problem with the power-steering pump.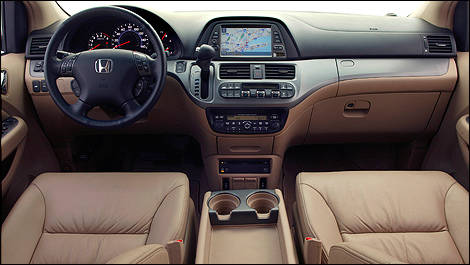 2007 Honda Odyssey (Photo: Honda)