Everyone dreams of owning a Porsche, yet not many people realize that these cars are more accessible than they think... provided a few sacrifices are made elsewhere in life: I'm talking about bringing your homemade lunch to work, not denying your kids a quality education.
I hadn't planned to change cars this year, but all the stars aligned when a young lady -- an angel, some would say -- wrecked my
Mazda RX-8
with her car.
I pondered for three weeks whether I should take over the lease of an Infiniti G37s coupe or
Subaru WRX STI
, while also scouring the internet every night in hope of finding some hidden gem. I found a BMW 335i,
M3
and M Roadster and made not-so-reasonable offers to their respective owners. It didn't work out, of course.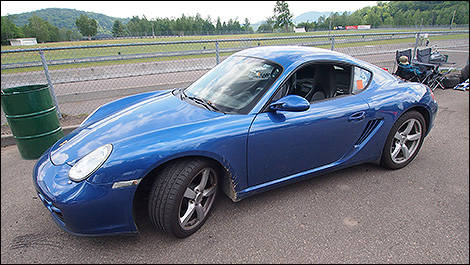 Photo: Frederic Feudi
One day, Porsche Canada's website listed a used
2007 Cayman
for sale at a very attractive price, and with just 80,000 kilometres on the clock. There were no pictures, and the car didn't even appear on the dealer's (Porsche Lauzon) website. I was quite intrigued and had a hard time falling asleep that night. I mean, there I was, entertaining the thought of calling a Porsche dealer to seriously enquire about a car for sale!
It could have been a computer mistake, and I fully prepared myself for disappointment.
At 9:02 a.m., a salesman told me that he was unaware of such vehicle. At 9:15, he came back and confirmed that it did exist. Thirty minutes later, the guy assured me that this particular Cayman could be certified. Immediately after lunch, I made a deposit.
Meanwhile, the poor car must have spent four long and stressful hours wondering who would be its next owner...
Porsche Approved, the company's certified pre-owned vehicle program, comes with an extensive mechanical and visual inspection, as well as replacement of excessively worn parts. In my case, the technicians changed the tires, brake discs and pads, and they applied paint touch-ups to make the Cayman look as immaculate as possible. Porsche Approved also adds two years of comprehensive warranty (with a maximum of 160,000 kilometres). I wish Audi and BMW would do the same.
I got off the dealer's lot and immediately hit the open road for a trip to Uncle Sam's land. The 2007 Porsche Cayman may not be the fastest car out there, especially in straight lines, but man, talk about balance and finesse! And what a sound! While the Cayman is one of the youngest members of the Porsche family, it seems to embody all the rich German tradition of the Stuttgart-based automaker, maybe even more so than models like the
Cayenne
.
That being said, owning a Porsche and limiting yourself to public roads is like keeping a cheetah on a leash: You might as well stay home.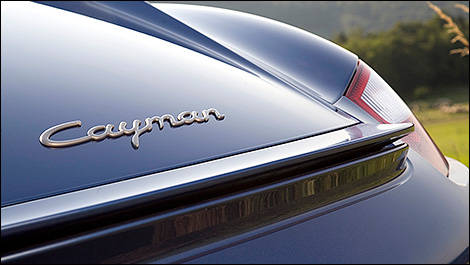 Photo: Porsche