Amazing! A fuel economy rating of 10 L/100 km
Following my road test of the Porsche Cayman S a couple of weeks ago, I expressed some concerns about the styling and sometimes delicate handling. Then, in March, I drove the base Cayman with Michelin Pilot Sport Alpin tires. My opinion changed when I experienced its excellent fuel economy and driving fun, even during winter.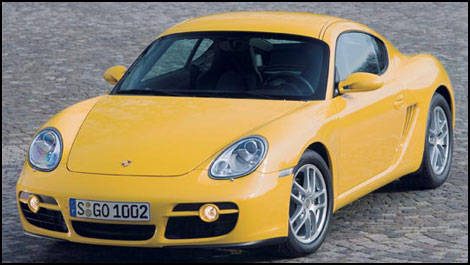 Despite appearances, the Cayman is a 4-season car.
Made for winter

Robert Carlson, the company's Public Relations Manager, told me over and over that Porsches are made to be driven during winter. Although many will strongly disagree, he's right. The German manufacturer's cars are backed by a 10-year antirust warranty so, clearly, they're built to last. Driving the Cayman in such conditions even proves to be a daily pleasure.


Docile

On city streets, highways or byroads, the Cayman offers a predictable and more pleasant driving experience than its sister, the Cayman S. The oversteer when exiting a corner can be used to your advantage, without ever feeling that you will lose control. The Porsche Stability Management (PSM) system takes over just at the right time. As a result, the driver always feels secure and in control on wet or snowy surfaces. Even when equipped with winter tires, this car delivers stopping distances on dry pavement that are truly Porsche-worthy: 100 to 0 km/h over 35 metres, on average. If you want to push the Cayman to the limit, it will easily meet your expectations, but the car also knows how to be docile at cruising speed.


Flexible power

Another great thing about the Cayman is its well-calibrated power, which allows the driver to get out of trouble at the right time, to surge forward and to pass with confidence: 0 to 100 km/h acceleration is achieved between 6.5 and 7.2 seconds and 80 to 120 km/h sprints are completed in about 5.4 seconds. Thanks to their newly redesigned engines, the Cayman as well as the Boxster have become competent sports cars with enough power to deliver all the thrills of sporty driving. The 5-speed gearbox is very flexible and the shifter is easy to manipulate. Personally, I no longer feel the need to sit inside a Cayman S to benefit from a sporty driving experience.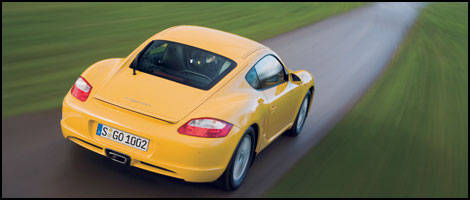 Everyone can appreciate the driving of this Cayman.