Montreal -
The first Canadian event in the auto show season kicked off yesterday with a full day of previews and activities for journalists and marquee guests. Excitement is sky-high this year at the Montreal International Auto Show (MIAS), with a long list of Canadian debuts and even a North American premiere.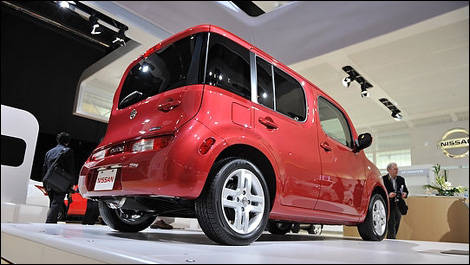 Nissan cube
The atmosphere felt a lot less sullen than at Detroit's NAIAS, although there was nothing extravagant to be found. The stands were rather plain, vehicle launches were devoid of flash and the restraint showed by automakers clearly mirrored the slumping economy.
Chrysler took it to the extreme with an unelaborate, unadorned stand. Cars were aligned in the simplest fashion, with a sign that read something like: "Due to the current situation, Chrysler decided against any form of spectacular display." Some people in attendance found the idea pretty smart, while others merely saw the catastrophic state of the Big Three. One thing's for sure: automakers are making a strong statement.
Significant launches
Maserati started the dance with the introduction of the Quattroporte S and GranTurismo S, two ultra-premium cars featured in "7th Heaven", a unique section dedicated to exotic automobiles.
Other debuts caught the attention at the MIAS, whose focus this year is definitely sport and environmental friendliness. At Ford, the two are nicely mixed together in the 2010 Fusion Hybrid and Mustang.
Audi also showed its green side with the Q7 TDI. Styling still matters, of course, as seen during the debut of the smaller Q5, which is built on the A5 platform.
Fuel efficiency was also the theme at Honda. After making its world debut a couple of days ago, the all-new Insight took center stage at the MIAS.
Meanwhile, Kia showcased a hybrid variant of the new Soul, which also made its first Canadian appearance.
Elsewhere, it was hard to overlook the Volkswagen Touareg 2 TDI and its clean diesel engine, the 2010 Subaru Forester PZEV and the Hyundai Tucson EV. The latter marks a new trend at the Korean automaker.
Not to be outdone, General Motors won an AJAC award for Best New Green Technology with its Two-Mode Hybrid Powertrain -- as found in the new Saturn Vue. This compact SUV was in good company, flanked by the 2010 Sierra Hybrid and Silverado Hybrid.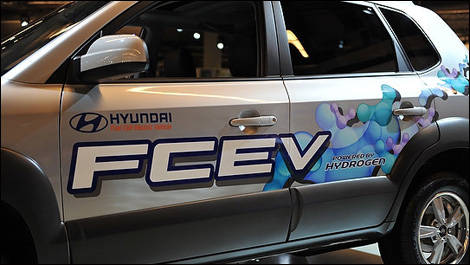 Hyundai Tucson FCEV