The organizers of the
Montreal Auto Show
, which just wrapped up, weren't that surprised to see a slight decrease in attendance. In point of fact, according to official numbers 186,320 visitors passed through the turnstiles, a 9% decrease compared last year's 204,000.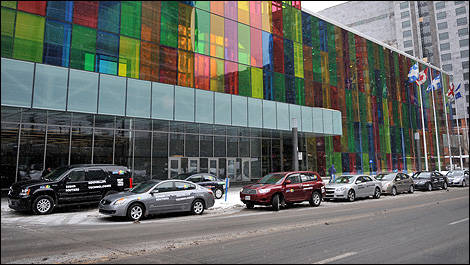 Visitors got the chance to try out a total of 13 cars on a short drive through the streets of Montreal.
However, the situation doesn't concern the president of the show, Stéphane Saint-Louis, who had expected the drop. "In the current economic situation, we had to expect a certain decrease in numbers, and we believe that 9% is entirely acceptable when compared to the other main North American shows," he said.
He was also very pleased by the presence of all the automakers, proof, he believes, of the importance of the Montreal International Auto Show. "Many other shows were lacking manufacturers this year, which created a sort of void. Everyone attended the Montreal show, demonstrating once again that the Montreal market is definitely part of the automotive landscape."
Green test drives
The show's success was further demonstrated by the numerous special exhibits that attracted an impressive number of visitors, namely the test drives of new-technology vehicles, an initiative presented by the MIAS in collaboration with Auto123.com.
Visitors got the chance to try out a total of 13 cars on a short drive through the streets of Montreal, including most of the hybrids on the market produced by Toyota, Honda and General Motors as well as the
Subaru Outback PZEV
and the
Jetta TDI
burning clean diesel.
Over 1,943 test drives were conducted over the ten days; most of the drivers accepted to share their driving impressions by way of a short video broadcast directly on the Auto123.com web site.
The initiative was also supported by the public, as Auto123.com editor, Daniel Lafrance, mentions: "Our goal was to bring motorists into contact with the hybrid vehicles they so rarely have the chance to try. We hoped to encourage them to include hybrids, or new technologies, on their next shopping list, and from this standpoint, and judging by the feedback received, the project was a success," concluded Mr Lafrance.
photo:
Philippe Champoux, Matthieu Lambert