• Quebec and Ottawa are providing $300 million in assistance to GM to build a battery components plant in Bécancour, Quebec.
• Quebec's share of the loan is $152 million, most of which will be written off if GM maintains jobs for 10 years.
• The plant is scheduled to open in 2025.
Quebec and Ottawa have announced $300 million in government assistance to auto giant General Motors (GM) for the construction of a plant that will manufacture components for EV batteries in Bécancour, Quebec. The municipality is located halfway between Montreal and Quebec City.
The $600 million plant, a joint project between GM and South Korean industrial materials manufacturer POSCO, was first announced by the companies last year.
The factory will manufacture cathode materials, a key component of the lithium-ion batteries used in electric cars. Some 200 jobs are expected to be created when the facility opens in 2025, not counting all the construction-related jobs.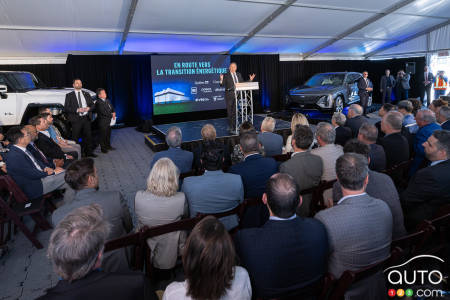 Photo: Twitter (Gouvernement du Québec)
Quebec Premier François Legault said the plant, which is already under construction, shows that Quebec is open to investment from international companies, as it attempts to make the province a leader in green energy.
"We have an exceptional opportunity," he explained. "We have Hydro-Québec, so we have clean energy. We have strategic minerals, like lithium."
Premier Legault's government is providing the companies with $152 million as a loan, but most of that loan will be forgiven; GM will not have to repay $132 million of the amount if it maintains the jobs created for 10 years.
"It's win-win for Quebec," he added, noting that the jobs will generate higher tax revenues for the province.
Federal Industry Minister François-Philippe Champagne said his government's "contribution" could be as much as $147 million, but he did not specify the nature of the funding.
This announcement comes just over a week after Ford announced it will be buying thousands of tonnes of lithium hydroxide - a component of electric car batteries - produced by Quebec-based Nemaska Lithium at its Bécancour plant.
Quietly, thanks to the shift to electric vehicles, Quebec is making a quiet comeback in the automotive industry.