From press release

We lift the lid on Carlos Sainz, Cyril Despres, and Stéphane Peterhansel's new desert raider.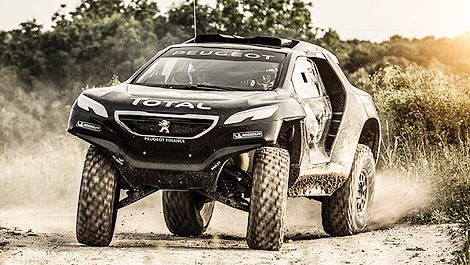 Peugeot 2008 DKR. (Photo: Peugeot Sport)
"Much like we did when we chose to build a closed-cockpit car for the Le Mans 24 Hours, we decided to try a totally different strategy to that of our main rival," said Bruno Famin, Peugeot Sport Director, comparing the new 2008 DKR with the Dakar-winning Mini. "Since they've mastered four-wheel-drive, we have chosen to focus on optimising two-wheel-drive, which offers a number of intriguing benefits."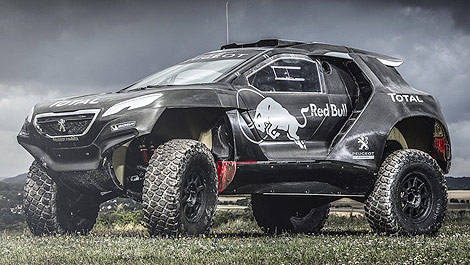 Peugeot 2008 DKR. (Photo: Peugeot Sport)
In the early 80s, 4x4 was the way of the future as the Audi Quattro and Peugeot 205 proved as they swept all before them in the WRC. But, these days, a modern 2WD has some significant advantages over a 4WD - especially when it comes to the Dakar: "Two-wheel-drive cars can run at a significantly lower weight. Also, these machine are allowed to use bigger wheels, which goes well with obstacles," explains Tech Manager Jean-Christophe Pallier. "The wheel size also allows us to minimise the front overhang.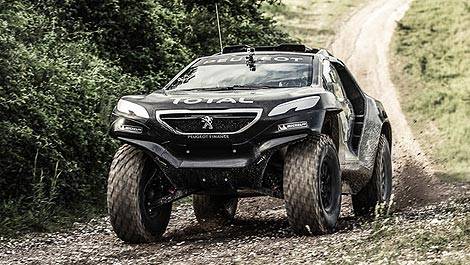 Peugeot 2008 DKR. (Photo: Peugeot Sport)
"The suspension benefits from increased ground clearance: it runs at almost 400mm, as opposed to 250mm, which gives us a much greater capacity to get past any obstacles in our path." And, finally, homologation allows the co-driver to adjust the tyre-pressures at will from inside the cockpit.
Peugeot 2008 DKR. (Photo: Peugeot Sport)
The Peugeot 2008 DKR will be mid-engined and the power unit (not to be confused with the F1 PUs) will be a 340bhp V6 twin-turbo diesel. The car is shorter and squatter than previous Red Bull-liveried Dakar cars, which made it quite difficult to fit all the vital assemblies on such small frame. But the great advantage of such a small car, for the Dakar standard, is that it'll be great over twisty terrain.
Now, the only thing left is to unleash the beast for the drivers to tame!