From press release
Albatec Racing returns to full strength in round six of the FIA World Rallycross Championship presented by Monster Energy in Belgium this weekend (12&13 July), when both two-litre, 16v Albatec Peugeot 208s are back in action.
Following a heavy test crash in Sweden by former F1 World Champion Jacques Villeneuve last month, Team Principal Andy Scott gave up his own car for the French-Canadian to drive in the three Scandinavian rounds. Now though, the Dumfries businessman will be reunited with the #26 MacDuff-backed motor as he bids to return to semi final form and challenge for his first outright World RX win.
Now restored to a two-car attack as the season approaches the midway point, hopes are high of a return to form for the team that showed semi final pace in the opening two rounds for former British Rallycross Vice-Champion Andy, and for lady luck to shine on Jacques who has consistently proved his speed behind the wheel of the 600bhp French powerhouse.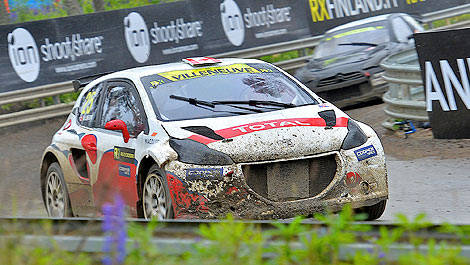 Jacques Villeneuve. (Photo: Albatec Racing)
The new Circuit Jules Tacheny track should suit the Peugeot and Jacques well, being largely road–based. In the last three rounds he showed outstanding pace, posting the fastest single lap time in heat one, and the second in heat two in Norway. In Finland the 1995 Indycar World Series Champion looked set for a semi-final slot, only to have a puncture end his progress, while last time out in Sweden, even a heat win and a rapid pace on day two was not enough to secure a semi final place, as crash damage sustained on Saturday ruled him out.
Being new to the championship also means the track is unknown territory for everyone, offering a level playing field across the huge 37-strong Supercar field. The Mettet track located near Charleroi was originally built for motorcycle racing in 1927, and since then has hosted two and four wheeled events. While new to the Rallycross schedule, the organisers have spent considerable time and money on preparing the track to FIA standards, and indications are that the weekend will offer up another superb action-packed event.
Andy Scott, Team Principal and Driver, Albatec Racing #26: "The damage sustained to Jacques car in Sweden was extensive, but it's now been completely rebuilt and ready for race action, and we're pleased to have both cars back out in Belgium. Over the last three races we've suffered with only running one car, having two naturally doubles the chances of progressing to the semi finals, as well as providing double the opportunities to further develop the car.
"I believe Jacques has the potential to shine in the second half of the year, he's already shown his speed, we just need to harness that and convert it into consistent results across the heats. The upcoming tracks should suit his driving style, while the new Mettet track offers a level playing field across the board for everyone. Personally I can't wait to get back in the driving seat too, it's been incredibly tough being at the track and not racing."
Jacques Villeneuve, Driver, Albatec Racing #25: "I'm looking forward to Belgium and the subsequent races, which are held on road courses transformed into rallycross circuits which should suit my driving style better, and where one bad race doesn't have such an effect on the overall results. We need to find a little bit more speed, but I'm confident we can do so as I think we have a good base from which to progress."