The opening round of the all-new FIA World Rallycross Championship presented by Monster Energy will kick off in Portugal this weekend with more than 50 of the world's best rallycross drivers set to battle it out in three categories.
The line-up will also include two former World Champions as former Formula 1 World Champion Jacques Villeneuve and former WRC Champion Petter Solberg join the Supercar line-up.
The Championship is made up of 12 rounds: Portugal, Great Britain, Norway, Finland, Sweden, Belgium, Canada, France, Germany, Italy, Turkey and Argentina.
Round 1, World RX of Portugal, will be based in Montalegre: a municipality in northern Portugal, located in the district of Vila Real on the border with Spain.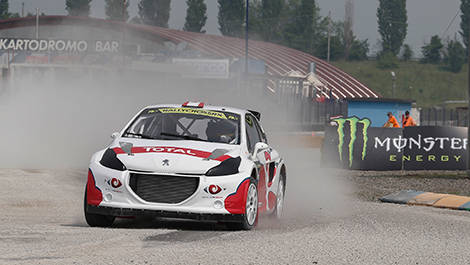 Jacques Villeneuve (Photo: World RX Championship)
The draw for Saturday's first qualifying heat will be made on Friday afternoon (2 May). The second qualifying heat also takes place on Saturday with the remainder of the heats plus the semi-finals and finals to take place on Sunday (4 May).
There will be six World RX two-car teams present in Portugal including the manufacturer-backed squads of Ford-OlsbergsMSE (Andreas Bakkerud and Reinis Nitiss), VW-Marklund (Topi Heikkinen and Anton Marklund) and Peugeot-Hansen (Timur Timerzyanov and Timmy Hansen). Also in Portugal and fighting for Supercar victory will be PSRX's Petter Solberg with team-mate Alex Hvaal.
Albatec Racing is fielding two Peugeot 208s for Jacques Villeneuve and Andy Scott.
Villeneuve spoke positively ahead of his World RX debut: "Rallycross is both fast and exciting. The power in the cars is unbelievable, they're like rockets but driving is what I know – it's what keeps me alive. The extra elements that make up rallycross are what I need to learn this year – the strategy, the close driving, the tires – that's what's new for me."
Other notable entrants in Portugal include top female driver Ramona Karlsson who will be driving a Per Eklund Motorsport run Saab 93.
CIRCUIT INFORMATION:

Name: Pista Internacional de Montalegre
Length: 945 metres / 1,050 metres with joker lap
Composition: 40% gravel and 60% tarmac
Direction of the track: Clockwise
Number of laps in the Qualifying Heats: 4 laps
Number of laps in Semi-Finals and Finals: 6 laps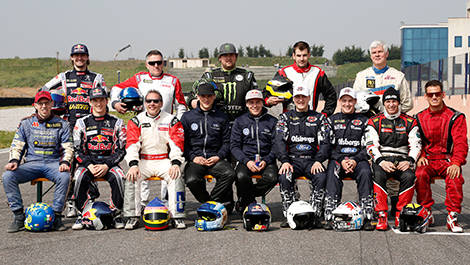 The 2014 drivers. (Photo: World RX Championship)
Entry list, Supercars category:

No  Driver  Nat.  Competitor  Car

1 Timur TIMERZYANOV  RUS Team Peugeot-Hansen Peugeot 208
3 Timmy HANSEN  SWE Team Peugeot-Hansen Peugeot 208
6 Alexandre THEUIL  FRA Alexandre Theuil Citroën DS3
11 Petter SOLBERG  NOR PS 110% AB Citroën DS3
12 Alexander HVAAL  NOR PS 110% AB Citroën DS3
13 Andreas BAKKERUD  NOR OlsbergsMSE AB Ford Fiesta ST
15 Reinis NITISS  LVA OlsbergsMSE AB Ford Fiesta ST
22 Koen PAUWELS  BEL Koen Pauwels Ford Focus
21 Bohdan LUDWICZAK  POL Bohdan Ludwiczak Ford Fiesta
25 Jacques VILLENEUVE  CDN Albatec Racing LTD Peugeot 208
26 Andy SCOTT  GBR Albatec Racing LTD Peugeot 208
33 Liam DORAN  GBR LD Motorsports  Citroën DS3
41 Joaquim SANTOS  PRT Joaquim Santos Ford Focus
44 Krzysztof SKORUPSKI  POL LD Motorsports  Citroën DS3
47 Ramona KARLSSON  SWE Per Eklund Motorsport Saab 9-3
54 Jos JANSEN  BEL Jos Jansen Ford Focus
57 Toomas HEIKKINEN  FIN Marklund Motorsport VW Polo
66 Derek TOHILL  IRL LD Motorsports  Citroën DS3
92 Anton MARKLUND  SWE Marklund Motorsport VW Polo