Honda and its luxury division Acura are recalling a total of 124,077 vehicles due to a potential problem that could lead to brake failure. A part of the system may have been incorrectly assembled. The models affected are:
Honda Civic (2020 and 2021)
Honda Ridgeline (2020 to 2023)
Honda Passport (2021 to 2023)
Honda Pilot (2021 and 2022)
Acura MDX 2020
Honda explains that the brake master cylinder may have been incorrectly attached to the brake booster during production. Specifically, it's the tie-rod attachment that's the problem.
Honda explains that if assembly has been done incorrectly, the nuts on the tie-rod may be loose or missing. In this case, during braking, a bending load can be placed on the tie-rod studs, leading to their breakage. The brake master cylinder can then separate from the brake booster. According to Honda, this can lead to a reduction or loss of braking function.
Last year, Honda received an incident report of brake failure on a 2021 Pilot SUV, event that led the company to launch an investigation. According to the company, there have been no accidents, injuries or fatalities related to this problem, but the manufacturer has received two warranty claims since September 2022.
Notifications to owners are expected to begin on August 7. Honda says it will inspect and replace all missing nuts, and that if any components of the brake booster assembly are damaged, they will also be changed.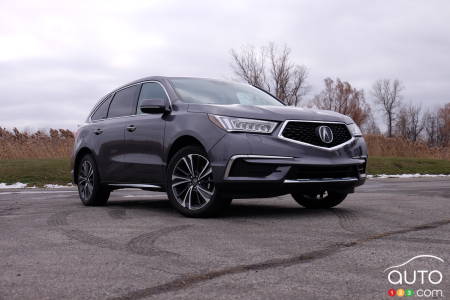 Honda indique que le maître-cylindre de frein peut avoir été mal fixé au servofrein (l'amplificateur de freinage) au cours de la production. Plus précisément, c'est la fixation de la barre d'accouplement qui pose problème.
Honda explique que si l'assemblage a été mal fait, les écrous de cette barre peuvent être desserrés ou manquants. Dans ce cas, au freinage, une charge de flexion peut être placée sur les goujons de la barre d'accouplement, ce qui peut entraîner leur rupture. Le maître-cylindre de frein peut alors se séparer du servofrein. Honda explique que cette situation peut entraîner une diminution ou une perte de la fonction de freinage.
L'année dernière, Honda a reçu un rapport d'incident faisant état d'une défaillance des freins sur un Pilot 2021. C'est à partir de cet événement que la compagnie a lancé une enquête. Selon l'entreprise, il n'y a pas eu d'accidents, de blessures ou de décès liés à ce problème, mais le constructeur a reçu deux réclamations de garantie depuis septembre 2022.
Les notifications aux propriétaires devraient commencer à être envoyées le 7 août prochain. Honda indique qu'elle inspectera et remplacera tous les écrous manquants, et que si des composants de l'ensemble du servofrein sont endommagés, ils seront également changés.