Honda is having to recall 1.2 million vehicles to resolve a problem with the rearview camera. The news was announced on Friday by the NHTSA (National Highway Traffic Safety Administration), the equivalent of Transport Canada. The campaign affects the following models:
2018-2023 Odyssey minivans;
2019-2022 Pilot SUVs;
2019-2023 Passport SUVs.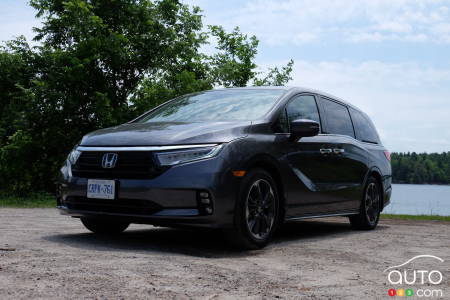 The potential problem is that a coaxial cable connector responsible for the link between the camera and the screen may be defective, preventing the image from displaying inside the vehicle.
Honda has already extended the warranty to vehicles affected by the problem in 2021. The automaker said, via a document filed with NHTSA, that it had received 273,870 warranty claims related to the problem between May 2017 and June 2023. We can see that the problem is not just anecdotal and can affect many vehicles. Honda states that there have been no reports of injuries or deaths related to this situation.
Remember that this type of recall is mandatory, as a vehicle that does not display the image captured by the rearview camera no longer meets the safety standards set in both the United States and Canada.
In Canada, some 80,000 vehicles are affected, according to Reuters.
As for the repair, dealers will install a better-quality wiring harness between the display system and the vehicle's terminal connections. A protective cover will also be fitted to the vehicle's cable connector.