The days of the Dodge Grand Caravan and Avenger are numbered! Chrysler Group decided to axe the two models in order to avoid product duplication and give each of its brands a distinctive lineup.
The minivan and midsize sedan will be replaced in 2013 by a single crossover based on the next-generation Chrysler Town & Country platform, Chrysler CEO Sergio Marchionne announced.
"We cannot have the same type of vehicle in the showroom because the consumer is not stupid," he said.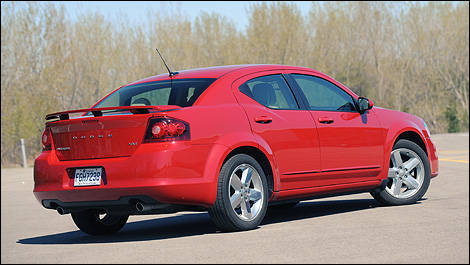 2011 Dodge Avenger (Photo: Matthieu Lambert/Auto123.com)
Erasing duplicate vehicles was a guiding idea behind Project Genesis, aimed at simplifying life for customers. With this plan, the automaker is consolidating four brands – Chrysler, Jeep, Dodge and Ram – under one roof, eliminating nearly all dealerships with fewer brands.
Grand Caravan vs. Town & Country
Over the last few years, Chrysler Group has tried several times to differentiate its two minivans. The Grand Caravan is an affordable, convenient solution for young families, while the Town & Country is a more upscale, higher-priced variant.
Canadians prefer the former by a long shot, with 44,004 units sold during the first nine months of 2011 compared to only 3,539 for the Town & Country. In the U.S., however, it's a different story. From January to September, 85,930 Grand Caravans and 71, 917 Town & Countrys were sold.
It will be very interesting to see which strategy the manufacturer will adopt with regard to pricing and trim levels.
Dodge Avenger vs. Chrysler 200
The decision to focus on the Chrysler 200 – one of the biggest stars from the latest Super Bowl ads – doesn't come as a surprise.
The sedan was completely redesigned for 2011 and came to symbolize the rebirth of Chrysler. On the other hand, the Avenger received a minor facelift and some new, high-quality materials inside.
Through September, 5,989 copies of the 200/Sebring had found takers, roughly 50 percent more than the Avenger (4,077).
Source: Automotive News