When our photography and video crew cover an auto show, they've got a lot of gear to haul. Cargo space is a priority, but when you're hitting the road for an 11-hour trek from Montreal to Detroit with people on board, you also need room to stretch out and chillax.
The weapon of choice to head down to the
2012 Detroit Auto Show
was the
Volkswagen Routan
minivan, with a 283-hp V6 engine, seven-passenger seating and up to 4,089 litres of cargo space. Check out Anthony, Sebastien, Ghislain and Phil's impressions of the Routan on the trip.
2012 Volkswagen Routan Highline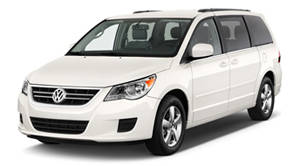 2012 Volkswagen Routan Highline