Model:
Saturn Outlook : Used
Vehicle Type:
Crossover
History/Description Of The Used Saturn Outlook:
Saturn's big family hauler hit the road for 2007, just a few years before the demise of the GM-owned brand. Packing room for up to 8, and riding the same platform as the
Chevrolet Traverse
and GMC Acadia, the
Saturn Outlook
packed standard V6 power, plenty of size, available AWD, and a long list of available feature content.
Look for split-folding and sliding seats that can be reconfigured to fit numerous combinations of passengers and gear, as well as generous at-hand storage dotted throughout the cabin. Feature content included available heated leather, OnStar, a sunroof, navigation, automatic climate control, and plenty more.
Look for an automatic transmission and 3.6L V6 engine with about 265 horsepower on all models. Though the model is discontinued, Outlook did pack a lengthy powertrain warranty, which is still being honoured at most GM dealerships.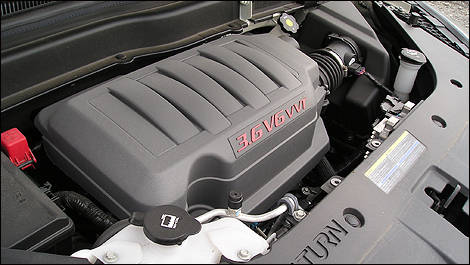 2007 Saturn Outlook XR AWD (Photo: Michel Deslauriers)


What Owners Like About The Used Saturn Outlook:
Owners report satisfaction with the ride and handling balance, V6 performance, easy-to-drive character, generous towing rating, interior design and overall space and comfort. Easy-to-operate folding seats are also noted.

What Owners Dislike:
Noisy factory tires and some cheap interior trim are among the biggest complaints. Some owners, additionally, wish for more responsiveness from the transmission, which strongly resists downshifting to save fuel.
Common Issues With A Used Saturn Outlook:
On an Outlook test drive, start with a visual inspection of the body, noting any dings, dents, scrapes or rust on the paint. Note the condition of the tires, ensuring there's plenty of rubber left. Inspect the wear surfaces of the vehicle's cabin, including seats, door-sills and the lip at the edge of the cargo area. If there's excessive wear, call it into pricing negotiations. Also, check for wetness in the front passenger footwell areas or on the ceiling liner, which could indicate a leaky sunroof.
Listen for any unwelcome noises from under the hood, noting any that escalate when you're steering. The Outlook was known for a failure-prone power steering pump that got noisy when it was planning to act up. Also, listen for any clunking or popping sounds from the suspension as you travel over bumps, which could indicate a worn-out component.
Have a mechanic inspect the underside of the Outlook for signs of fluid leakage from the shock absorbers, transmission, engine, and AWD system, and to be sure the CV axle boots are in good shape.
Note any issues related to the transmission beyond the gearboxes generally sluggish nature -- including slipping, hard shifting or difficulty shifting between reverse and drive. If any of these issues are present, move to another unit.
Shuddering during acceleration or a lumpy, sporadic feeling to the Outlook's power delivery, possibly accompanied by a "check engine" light, could be evidence of a faulty ignition coil, too.

The Verdict Of The Used Saturn Outlook:
Largely, it's the size, capability and warranty coverage that make the Outlook look appealing as a used SUV buy. If you're dead set on one, be sure to seek out a clean mechanical bill of health and opt for any extended warranty coverage that may be available.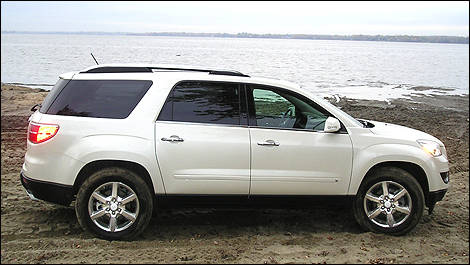 2007 Saturn Outlook XR AWD (Photo: Michel Deslauriers)