Starting this September, residents of the city of Candiac near Montreal will have the chance to board a self-driving bus as it covers a 2-km loop around the city. It's part of a pilot project that aims to demonstrate the viability of autonomous-driving technologies and vehicles, and it constitutes the first pilot project of its kind in Canada.
The NAVYA bus can accommodate 15 passengers. Driving at a maximum speed of 25 km/h, it will start its run at the bus terminals and make stops at city hall as well as at designated stops near businesses and shops. At all times, an operator will be on board to intervene as needed, but also to answer questions that are sure to be asked by users.
Once the first snow stays on the ground, the winter phase of the pilot project will kick in: the vehicle will continue to function, but it will no longer take on passengers.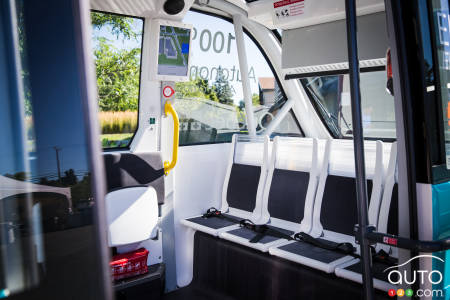 "We think the technology is there, it's safe to put out on public roads. This is a project that is safe for the users, safe also for pedestrians, cyclists and people who may interact with the minibus itself."

- Quebec Transport Minister André Fortin
The self-driving shuttle bus designed and built in partnership by the NAVYA Group and Keolis Canada at a cost of $400,000. The Quebec government is kicking in an additional $350,000.
Oh, and the ride? It's free of charge.
Here is a video that provides more detail on the functioning of the bus: