Passion is a great motivator. Passion is also a driving force. I believe that so long as one has passion and heeds its call, they shall never be truly sad.
To channel this passion is to be powerful, determined, and comfortable with one's self. On
Rob Dickinson's personal Web site
, the man behind Singer Vehicle Design, he explains that he's glad he did not expend any energy in defining his band, Catherine Wheel. Because of his state of mind, this excellent band's moderate success was recognition enough and not a reflection on the singer/songwriter's talent or skill.
This is passion speaking. Confidence exuded.
In my time, I've had passion for music (I played in a band for a number of years) and for my true calling, the automobile. Rob Dickinson has had the same, but has been able to take both loves to a whole other level with passion and talent to go with it.
As a lover of vintage Porsches, it only made sense that when Rob's band disbanded and his solo career was burgeoning that he scratch the other itch and see where it would take him.
Where this venture lead and is taking Mr. Dickinson, I don't think he could have foreseen.
SVD
Singer Vehicle Design
was officially founded in 2009, but Rob was already working on a car beforehand. This same car and I were able to meet at the Quail in 2010 during Monterey Car Week. Texas was her name and deeply in love I fell at that very moment. But enough about that, let's talk about a Porsche 911 that has been dutifully restored, tuned and customized by Singer Vehicle Design.
It all starts with a customer-supplied 1990-'94 Porsche 911 of the 964 generation. It is important to understand that Singer does not sell cars. It reconstitutes and breathes new life into an older car. Consider them as an A-Z tuner of what they consider to be the "most important sports car on the planet and worthy of such celebration for its iconic status and the genius of the company and the men that created it."

The Car
It starts with a complete deconstruction; stripped chassis on a rotisserie then additional reinforced welding. From here, the ultra-sexy carbon-fibre body panels are fitted and then painted. Some damn fine looking front 9"x17'' and rear 11"x17'' Fuchs wheels (painted or not) are rolled on and racing side stripes stuck on for the perfect final exterior touch.
The cabin is reconstructed from dashboard to rear deck, from door to door. A fully integrated roll hoop (upholstered in padded leather) is affixed behind the seats, and then all surfaces that come into contact with the occupants are swathed in the finest materials possible.
The key element here is that all of the new stuff is period correct. The interior recalls that of the Porsche from the '60s and '70s and that includes the seats, steering wheel, and overall décor.
Under the rear bonnet goes a 270-horsepower 3.6L H6 for starters. A 5-speed manual Getrag G50 transmission does gear duty. Optionally, a 360-horsepower 3.8L H6 and 6-speed box can be spec'd at extra cost.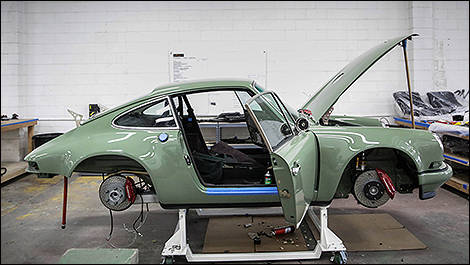 Photo: Olivier Delorme
Obsessive attention to detail
I've grossly understated the amount of work that goes into each and every Singer Vehicle Design reconditioned Porsche 911. By Rob's estimates, Singer stops counting after 4,000 hours have been devoted to the car; a mind-blowing number to be sure.
That time is not wasted on trivial things. They are invested in meticulous fit and finish, matching and even surpassing what the best automakers (luxury included) can do today. The attention to detail makes the head hurt and I'm convinced that when these cars were painstakingly designed, many Advils and Excedrins were consumed.
The final product belongs in an art gallery as opposed to a crude garage. Each gap is perfect; all body panels align with precision. We witnessed one of the workers install a window crank system -- I had no idea such a banal thing could be made to look so important. In all seriousness, I've never witnessed craftsmanship such as this.
The present and the future
The shop itself, located in Sun Valley, CA, is very underwhelming, in stark contrast with the cars being assembled within its walls. It shares its outer footprint with a body shop that is littered with rusted, mangled classic cars and trucks all over the front parking lot. This is proof that one should never judge a book by its cover...
What started out as a low-key venture has become one of the most appreciated and practically worshiped tuners of Porsche cars. Those in the know know that Singer makes a classic 911 like few others.
Unexpectedly, in the interview, Rob touched on the future and the fact that he'd be open to expanding his craft to another car. I could not get him to specify a make or model, but I'm thinking something British would make the most sense given his roots... Time will tell.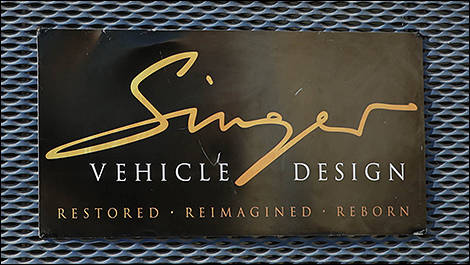 Photo: Olivier Delorme
View the uncut version of the interview here.