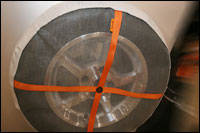 (Photo: Philippe Champoux, Auto123.com)
The SEMA show offers not only the chance to discover extravagant car designs and appreciate rare sightings but also gives us the opportunity to meet new distributors eager to make it in the automotive market with innovative products.
Garry Rainey is one of those thriving entrepreneurs. He is the distributor of a product called AutoSock, a traction-improving fabric cover that slips over automobile and truck tires. This product as yet to be distributed in Canada but caught our attention as it did for many Europeans from where the product originates.
View the captions of our soundslides presentation for more details.