Subaru has unveiled the Subaru Sport Mobility Concept at the 2023 Japan Mobility Show. This design study essentially previews a future electric Subaru BRZ. Like a lot of the carmakers making a splash at this year's former Tokyo Motor Show, Subaru is venturing to prove that electric cars need not be merely functional and dull to drive.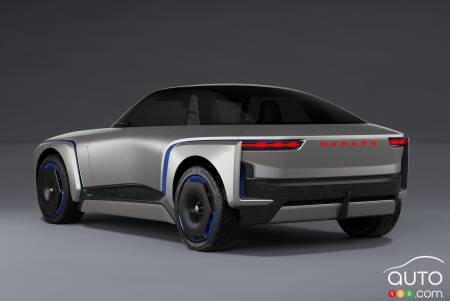 The concept could be intended to become one of eight EVs Subaru plans to launch by 2028. Subaru didn't provide much detail however, other than to confirm the car is a full-electric BEV. The images indicate a battery pack placed under the cabin, which would prevent a low sports-car seating position.
Subaru says drivers can control all four wheels, though it doesn't quite utter the words all-wheel drive.
The interior looks more production-ready than the exterior design. The dash features a rectangular steering wheel bursting with buttons.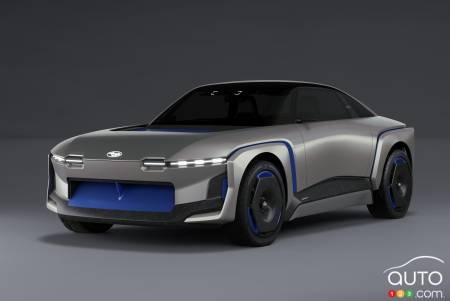 The rest of the dashboard bears quite a resemblance to that of the Subaru Solterra, which may or may not indicate this concept uses Toyota's e-TNGA platform. If so, dual-motor all-wheel drive is quite plausible, with up to 308 hp (which is what's on offer in the Lexus RZ).
However, the platform could also accommodate a single-motor rear-wheel-drive configuration in theory, or even a front-wheel-drive layout, although this is less likely for a sports car.
Visually, the Subaru Sport Mobility Concept is a two-door coupe intended to be sporty, but there's clearly some desire to retain the rugged outdoorsiness that is a Subaru trademark. The bumpers are squarish as are the wheel arches. Up top there's a blacked-out roof, which together with the black A-pillars and tinted glass make for an aggressive and sturdy yet streamlined feel.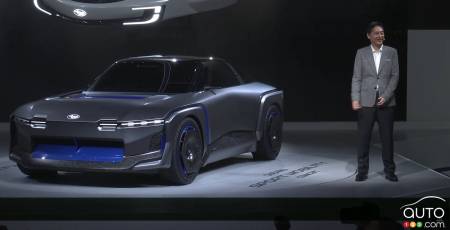 Then there are blue highlights on the front bumper, hood, wheel arch cutouts and wheels, while elsewhere we get forged carbon-fibre elements. Presumably that's to keep down overall weight, but here again, Subaru went into little detail.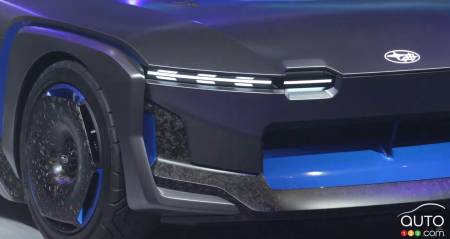 It's unlikely the Subaru Sport Mobility concept will make its way to production any time soon. Above all, it gives a glimpse of the future of Subaru sports cars, perhaps with a touch of off-road adventure. We might be looking at the future design direction planned for Subaru's STI performance division. And remember that Subaru did previously file to trademark the Ste name.