Ever see someone staring intently downwards, possibly smiling, while driving? The motorist in question isn't inspecting or grinning at the appearance of their crotch; they're using their Smartphone. This is, of course, dangerous, naughty, and likely to result in a pricey texty-driving ticket.
As such, carmakers the world over are releasing new Smartphone integration technologies to let drivers operate select handset functionalities in as distraction-free a manner as possible.
Not in the new-car market? Numerous mobile electronics manufacturers are offering aftermarket solutions to stay entertained, informed and in touch on the go, and without the risk of earning yourself a distraction-related ticket from the local constabulary.
One such manufacturer is Pioneer. Their latest Appradio 3 in-dash system aims to deliver integrated Smartphone functionality, including developer-driven apps, to the dashboard of virtually any ride.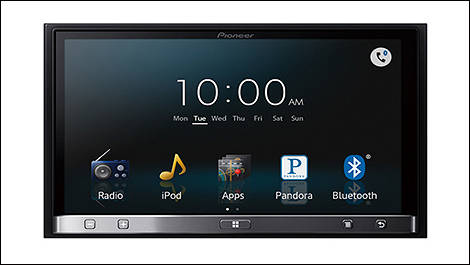 Photo: Pioneer
Here's the gist. Like your phone, the Appradio 3 touchscreen unit has a few hard buttons for tactile maneuvering between common menus, and a big, vivid touch screen for everything else.
Out of the box, Appradio 3 delivers the latest Bluetooth integration for handsfree calling and audio streaming, a built in radio tuner, available CD, iPod integration and more. All functions are manipulated on that big bright touchscreen—not the distracting little one on your Smartphone. You use the same slide, swipe, pinch and flick gestures however-- so the Appradio 3 interface becomes second nature in a jiff.
With just that simple Bluetooth connection, the Appradio 3 works just like some of the best new-car infotainment systems out there. Using the Bluetooth connection in my trusty 2008 Honda Fit, I could stream internet radio stations, place, accept and dismiss phone calls, and easily browse my phone's playlist, while said phone was gobbling up delicious electrons recharging in the glovebox.
For a modestly practiced user of in-car electronics, this will all prove plenty slick and functional—but of course, there's more to it.
Got an iPhone? Once Bluetooth pairing is complete, drivers benefit from integrated voice-command functionality, as 'Siri' is migrated into the Appradio 3 unit. Hold the centre button on the unit down for a second, and a chime prompts you ask Siri to read your incoming text messages, to dial your favorite pizza place, or to see what she's wearing today. Voice command is supported on Android devices, too.
This eyes-free, hands-free voice-command stuff was a welcomed bonus uncommon in new rides, which typically make you use their clumsier and more rigid voice interface.
Advanced users will enjoy further enhanced functionalities enabled by plugging their Smartphone into the head-unit via a cable hidden away in the glovebox or console. Connected via both Bluetooth and the cable, drivers can swipe through their phone's photo gallery, access their calendar, call up their native mapping program on-screen, and more.
The cable also drives the 'App' functionality which comprises the most appealing part of the AppRadio3 unit for advanced users. Install the free AppRadio program on your Smartphone, and a list of available AppRadio Apps populates every time you access it. These apps are created by programmers and developers all over the world and the selection is presently limited—though more launch regularly.
Available apps at the time of writing included various web browsers, media players, navigation interfaces, internet radio tuners and the like. These apps link between your data-equipped Smartphone and the AppRadio3 screen for a fully integrated experience.
I enjoyed the in-car browser app for its ability to play back media on the large screen and use the vehicle's stereo system when I wanted to show my friends a funny internet video
like this one
. Other Apps deliver social based navigation, internet radio playback and even performance meters and data displays for your vehicle's engine, right on the screen. That's only the beginning, and as the available apps expand in number and genre, the system will only get better.
Your writer left the AppRadio3 impressed, mostly, with the access to the voice-command system from his Smartphone, and its ability to provide calling, texting and other functions in a handsfree, eyes-free manner without learning a new voice interface. The Bluetooth audio streaming was another big plus, and the Appradio3's slick, vivid and bright screen was appreciated, too. And, call me a geek, but I loved the ability to set a photo of my dog as the AppRadio3's background wallpaper.
Complaints? Some of the apps cost a buck or two, some even more than that, and selection is currently limited. Initial setup and familiarity with the AppRadio3's operation can be difficult or frustrating for less electronics-savvy users like your writer, and the aftermarket bezel required to incorporate the system into my Fit's dash looks close to factory where fitment is concerned, though not perfect.
End of the day, this unit is a worthy way to access full Bluetooth functionality, handsfree voice-command, and a great big, easy-to-use screen into your ride from about $430.