Ottawa
— Everybody knows that the automobile is over 100 years old. As for what makes a car Canadian, your guess is probably as good as mine. To answer that question, the Canada Science and Technology Museum (CSTM) is now hosting a new exhibition called "In Search of the
Canadian Car
".
The inauguration was attended by some marquee individuals, including Gary Polonsky, Chairman of the CSTM Board of Trustees, Dr. Peter Frise, General Manager of Auto21, Stephen Beatty, Managing Director of Toyota Canada, and Claude Faubert, General Manager of the CSTM. (Photo: Luc Gagné/Auto123.com)
Taking a wide approach to solve the matter of national identity, the exhibition looks at manufacturing, design, marketing and consumer choices in Canada. "It offers a detailed picture, both from a manufacturer and consumer standpoint, of the Canadian experience with this technology that radically shaped our society economically, environmentally, socially and culturally," explains Claude Faubert, General Manager of the CSTM.
Actually, some visitors are taken aback by the lack of concrete answers. That's because the exhibition invites them to draw their own conclusions.
Loosely-defined identity
A 1926 Franklin Series-11A Touring parked in front of the CSTM during the inauguration gave visitors an intriguing preview of what's inside. This car wasn't even built in Canada! Rather, production took place in Syracuse, New York, from 1902 to 1934. "So, what's it doing here?" asked an unwitting visitor.
Well, its current owner, André Audette from Ottawa, personally replied to the man that this Franklin has always stayed in Canada. A resident of Quebec City became the first owner in 1926 before selling it to a Canadian collector a number of years later. Mr. Audette made the acquisition about a decade ago. The car must be Canadian, don't you think?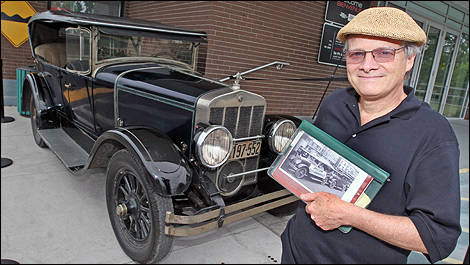 André Audette, the third Canadian owner of this 1926 Franklin Series-11A, shows a picture of his car back when it was still brand new. (Photo: Luc Gagné/Auto123.com)