Two of our long awaited black beauties have arrived. As you may know from
previous blogs
of mine, the Vancouver Police Department (VPD) is in the midst of replacing its fleet of Ford Crown Victoria patrol cars.
Decisions have to be made, and it's down to two.
The Taurus-based
2013 Ford Police Interceptor
and the
2012 Dodge Charger Pursuit
are the two finalists in this automotive standoff. The immediate plan is to acquire two of each for evaluation purposes. They will be deployed throughout the Patrol Division and driven by as many men and women in blue as possible over a couple of months.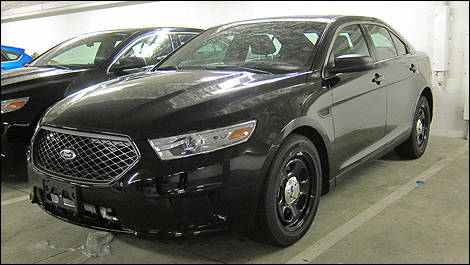 Photo: Rob Rothwell
The patrol officers will complete an online survey, rating driving dynamics, comfort, performance and other critical aspects of the vehicles. The results will be analyzed and incorporated into determining if the future face of the VPD will be Ford or Dodge driven.
The two Fords are first to arrive. I was introduced to them this afternoon in the basement of a Ford dealership in Vancouver. They looked mean, and eager for business. I got to take a spin in one of them and found it to be light-years ahead of the traditional Crown Victoria.
The new Police Interceptor feels rock-solid and highly responsive in every dynamic over the bloated, lethargic Crown Victoria. But that doesn't mean Ford has stolen the show. We have the Chargers on order, and they should prove highly competitive.
The two Interceptors are AWD units, which is a first in Vancouver for patrol cars. They will remain as black unmarked cars during the evaluation period but will be equipped with emergency lighting, mobile computer, police radio, siren and all the usual tech stuff that finds its way into a modern law enforcement vehicle.
Patrol officers are excited to get their respective hands on the evaluation vehicles. There's no doubt that they'll be driven 24/7, and driven hard. If flaws, weaknesses and deficiencies exist, they will soon become evident.
I'm most excited to assess the fuel savings that the V6 engines will deliver over the V8s presently in use in the Crown Victorias. Less fuel burned equates to less greenhouse gas emissions and less cost to the taxpayer.
I'm also interested in feedback around the AWD capability of the new Fords. While snow is likely out of the question during a Vancouver spring/summer, rain certainly isn't. Along with slick roads, Vancouver is a city of hills, making it an ideal environment for enhanced traction during tactical driving.
I'll be sure to let Auto123.com readers know when the Chargers have arrived. Hopefully, it will be within a few weeks. I see a back-to-back comparison drive in my future.
This is still anybody's standoff to win. There are many less dramatic aspects to consider in the deliberations as well, such as operating costs extrapolated over the service life of the vehicles and residual values, etc.
Many heads will be involved in the distillation of the data and the final decision. Either way, it'll be a milestone in police automotives.