On September 4th, 1997, the final 10th generation Thunderbird was to roll off the assembly line at the Ford plant in Lorain, Ohio. The Thunderbird has enjoyed a rich history, from its 1955 model onwards.
Launched as a two-seater, it was rivalled only by the
Chevy Corvette
, released two years earlier. The Thunderbird's classic features included a 292 cu. in. V8 engine cranking out 202 hp. This Ford could accelerate from 0 to 100 km/h in less than 10 seconds, with a maximum speed of 180 km/h.
Ford had already pre-sold 4,000 models before its plant pumped out the first Thunderbirds on October 22, 1954. The basic model was sold for $2,750, but you could add on a canvas top for the tidy sum of $70.
The 'T-Bird' was wildly popular for decades. However, the oil crisis was the downfall of this classic car and others like it, which came to be viewed by consumers as over indulgent and costly oil guzzlers.
Ford decided to end production on September 4th, 1997. However, from 2002 to 2005, Ford re-launched the T-Bird, though only 1,500 models were produced, for its 50th anniversary.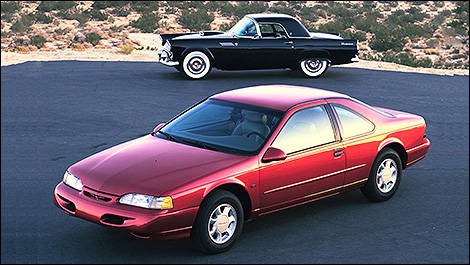 1995 Ford Thunderbird and 1955 Thunderbird (Photo: Ford)