As reported by Maserati
The
Quattroporte Sport GT S
"Awards Edition", the latest jewel in the Maserati range, will make its official debut at the prestigious Geneva Auto Show next week.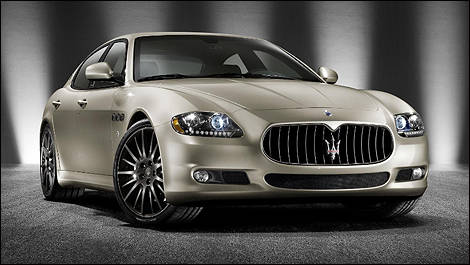 photo: Maserati
Six years after its birth, the car that created the luxury sport saloon segment continues to receive accolades from the general public, automobile aficionados and the media. Maserati has decided to celebrate its success with a superlative version, which blends the elegance and sporty stylishness of the brand's flagship, thanks to the combination of highly refined details, handcrafted finishes and features with a decidedly sporty flair.
During its six years of life, the Maserati Quattroporte has received no less than 56 awards from the most prestigious automotive and lifestyle publications in 14 countries over four continents. A global recognition for a car that has known how to renew itself over the years, still never failing to maintain the appeal of the lines and purity of the forms created by Pininfarina, which immediately made it an instant classic.
The Quattroporte Sport GT S "Awards Edition", based on the Quattroporte Sport GT S, aims to combine in one car all the features that have made the Trident flagship a benchmark in its segment:
the unique and elegant styling, mixed with a hint of sporting flair thanks to the eye-catching features adopted on both the exterior and interior fittings;
 driving enjoyment, because the "Awards Edition" is based on the Quattroporte Sport GT S, which boasts top-class performance and excellent handling;
 the craftsmanship of the hand-finished details which make each car unique.

The new Quarzo fuso exterior colour – a pearlescent metallic grey with a golden hue – exclusive to this model, makes the exterior instantly recognisable, and highlights the body's elegant lines. The burnished treatment used on the exterior chrome parts, as well as on the side air vents and radiator surround, also matches the 20'' Multi Trident dark grey rims with satin finish.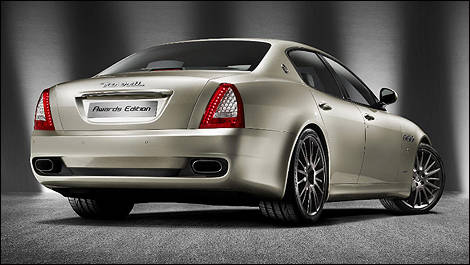 photo: Maserati