Tuesday, Toyota USA announced on its Twitter page that the next generation of RAV EVs will be unveiled at the Los Angeles show, set to begin on November 19.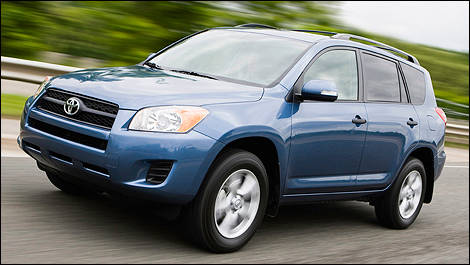 In November, Toyota and Tesla will lift the veil on a new 100% electric version of the RAV4 compact SUV, set to hit the roads in 2012. The picture shows a heat engine 2011 RAV4. (Photo: Toyota)
Earlier this year, Toyota Motor and the American EV manufacturer Tesla Motors had announced a joint project: the development of an electric RAV4.
Rumor has it that a prototype already exists, and that soon a small range of pre-production models will be hitting North American roads for the final stages of the development process. Wide-scale distribution is scheduled for 2012.
The 2nd RAV EV?
The new RAV4 EV will in fact be inaugurating the second generation of Toyota's compact electric SUV. From 1997 to 2003, the Japanese automaker had put a handful of electric RAV4s in circulation in the US (around 1,500), mainly on the West Coast.
Very few details set these electric versions apart from their heat engine brethren. They were recognizable by the EV decals featured on the front doors, the air intakes on the rear fenders used to cool the battery – and the lack of an exhaust.
Equipped with a 95-amp/hour nickel metal-hydrid battery (NiMH), these RAV4 EVs had an operating range between 130 and 190 km, depending on the charge and the conditions of use. The battery could be fully recharged in five hours.
The electric models reached top speeds of 126 km/h and could accelerate from 0 to 100 km/h in less than 20 seconds. Some sources claim that a few RAV4 EVs managed to travel over 240,000 km with their original battery.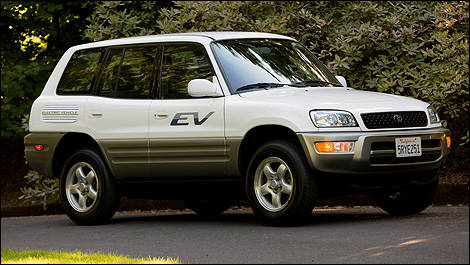 From 1997 to 2003, a handful of Toyota RAV4 EVs like this one were in operation in the US. But there were only very few of them, as Toyota wasn't ready for the full-scale marketing of such a model at the time. (Photo: Toyota)