Audi's S6
Recently, I spent time examining cutting-edge safety technology, using the 2007 Volvo S80 as my test subject. In Part II of The Power of Technology, I'll examine technology as it relates to performance; consider this the "true power" of technology. Our automotive subject for this purpose shall be the formidable, V10-powered 2007 Audi S6.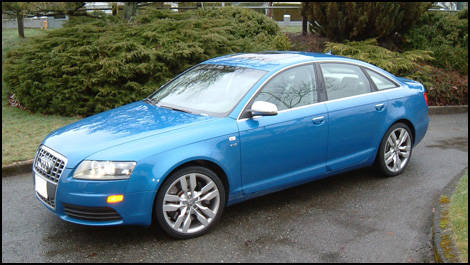 BMW rocked the sports sedan world with the introduction of the V10-powered M5. This rocket's hostile powerplant generates 500 horsepower and 383 pound-feet of torque from its naturally aspirated, 5.0 litre displacement. The M5's main competitor - and today's subject - is also of German heritage. As with the M5, the S6 powerplant is a double-overhead cam design, utilizing 4 valves per-cylinder and electronic fuel injection to amass 435 horsepower and 398 pound-feet of torque- that's fewer ponies but more torque than the Bimmer. At 5.2 litres of displacement, the Audi mill is slightly larger than the BMW engine. Audi's V10 also has the distinction of usage in the exotic, 500 horsepower Lamborghini Gallardo, albeit the monster powerplant is de-tuned slightly for S6 application.
It's no surprise that Audi and Lamborghini share the same engine, given Audi's parenthood over Lamborghini. What's fascinates me more than automotive family trees is the complex engineering required to produce these big league powerplants. Six-cylinder engines and V12 engines are inherently well balanced. Just think of how smoothly an inline six-cylinder BMW mill nails its redline, and you'll grasp the concept. Integrate two inline six-cylinder engines into a V12 powerplant and the polish gets even better. The same isn't true for inline five-cylinder engines. A five-cylinder engine is inherently unbalanced due to its odd number of cylinders and a correspondingly, odd firing order.
Mating two inline five-cylinder engines into a V10-arrangement doesn't necessarily overcome the inherent poor balance. However utilizing a 90-degree V-design will achieve a mass balance of the crankshaft and minimize destructive, unpleasant vibration. In Audi's example, additional elements of engineering come together to create a smooth running engine but don't expect turbine-like refinement.