Three unique roadster models based on the Bugatti Veyron 16.4 are on display at the 2013 Geneva Motor Show.
The Bugatti Veyron 16.4 Grand Sport shines in a sleek "Green Carbon" dress, while the doors, front wings and exterior mirror housings are in polished aluminum. Further details include the motif of a dancing elephant, embossed in front of the air intakes and reminiscent of the Art Déco hood figure restricted to the six Bugatti Royales built between 1926 and 1933.
The interior continues the green and silver theme: Green leather is tastefully set against silver stitching on the seats, steering wheel and shifter, while the green floor mats contrast with the sill panels in anodized aluminum.
Next up, the Bugatti Veyron 16.4 Grand Sport Vitesse combines a black carbon fibre body with blue mirror housings, as well as a polished aluminum roof and grille. Inside is a combination of Beluga Black and brown Gaucho leather. All other surfaces, including the visible carbon decorative elements, are black.
The third and final roadster is a Bugatti Veyron 16.4 Grand Sport Vitesse with mostly bronze-coloured carbon body panels. The bold cockpit pairs Burnt Orange and Coffee (dark brown) trim pieces.
Oh, by the way, the Bugatti Veyron 16.4 Grand Sport produces 1,001 horsepower, while the two Vitesse editions crank out an earthquake-inducing 1,200 horsepower.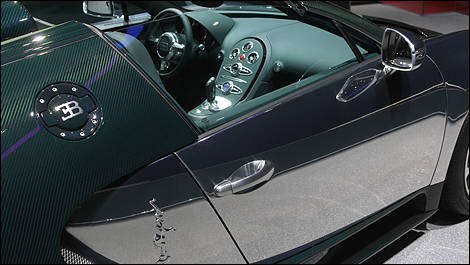 Photo: Bugatti