Auto123 takes out its crystal ball and presents the 30 most notable models that will be arriving in 2022-2023. Today, the SUVs and pickups!
See also: Top 30 Models Expected in 2022-2023: The Cars
See also: Top 30 Models Expected in 2022-2023: The Electric Vehicles
Just as the automotive industry never stops, neither do we. Here once again is our list of the most anticipated new vehicle models set to debut in the coming months and/or years. As is customary since we started this annual exercise, we have separated our survey into three main categories: Cars and sports cars, SUVs and electric vehicles.
Note that with the rise of electric models, it is quite possible that we will have to modify our sorting method next year. Stay tuned.
Meantime, for the second segment of our 2022-2023 Top 30 overview, we're going to look at SUVs and pickups. Into this wide-ranging category we toss any vehicle that fits, and we note that a few electrified models have weaseled their way in as well.
Browse cars for sale available near you
2023 Alfa Romeo Tonale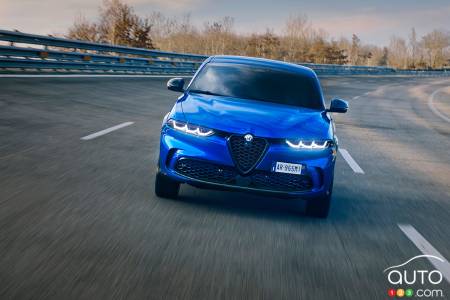 The Italian automaker recently unveiled its first-ever plug-in hybrid vehicle, proving that even a historic brand like Alfa can change its ways. When it has to, of course. The subcompact crossover will play in the same sandbox as the Audi Q3, BMW X1 and Lexus UX 250h, to name a few. There will be more too, of that we can be sure.
Under the hood, the Italian automaker is giving its pluggable SUV a 1.3L turbocharged 4-cylinder engine mated to a 6-speed automatic transmission, a 15.5 kWh battery pack and a 90 kW (120 hp) electric motor, which amounts to a total output of 272 hp and a possible electric range of 48 km. The Tonale will also be available without the electric accoutrements, only a 2.0L turbocharged 4-cylinder engine delivering 256 hp and 295 lb-ft of torque.
One thing's for sure: North American Alfa Romeo dealerships need this new model to liven things up around the showroom - and in the accounts ledger.
See also: Alfa Romeo Unveils the 2023 Tonale
See also: 2023 Alfa Romeo Tonale pictures