Here's our Top 10 of the electric pickup trucks we're most looking forward to seeing – and trying.
The year 2021 is going to be peppered with the debuts of a large number of electric-powered pickup trucks. But the number could well be even higher in 2022, and higher still in 2023. In fact, maybe we should get it over with and officially christen the coming decade as the decade of electrification.
In the most immediate future, just in the coming year, there will be tons of movement in the domain, as several segments are going to see a lot of new additions powered by electricity. This is the case in the light-duty truck category, which is preparing to welcome quite a few new combatants in a mighty fiercely contested – and lucrative – sector.
In the interests of fairness – and because we frankly have no idea which of these will, in the long run, emerge victorious in the coming battle royale - we present them to you in alphabetical order.
Discover Shopicar! All new makes and models and all current promotions.
Atlis XT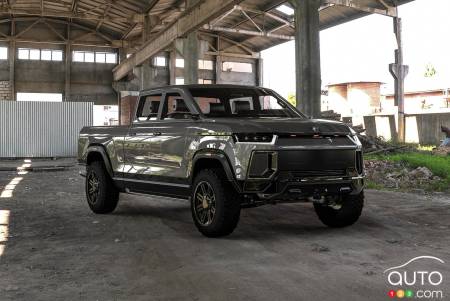 The Atlis company remains relatively little-known at the moment, but things could change quickly 0 as they are currently wont to do in the industry. The firm claims that its XT model will be one of the most powerful pickups ever produced, and it promises a range for its model in the neighborhood of 800 km, when equipped with the largest 250 kWh battery pack. The base model's battery pack will be 125 kWh.
Add to that an impressive towing capacity, pegged by Atlis at a maximum of 35,000 lb. Payload, meanwhile, will be up to 5,000 lb, which is huge in its own right.
And, interestingly, the Altis is being pitched as a more versatile model than its future rivals in terms of configuration. For example, an 8-foot bed will be possible in addition to the 6.5-foot box, plus there are wheels with eight nuts, a configuration that provides more solidity and leads us to consider the possibility of an ultra-rugged (HD) version.
We should see a few models on the road in 2021, mostly test vehicles. Sales are expected to begin in 2022.