It was impossible for me to know exactly what to expect. One evening, a few days before the Auto Show, myself and a few other Canucks were being briefed by a Beijing auto-show veteran who also happened to work for Volkswagen.
We were talking about the vibe and the sheer scale of the event held at the China International Exhibition Center (CIEC) and how different it is from what we've become used to. I know much about North American and European shows but, as per usual, things are a little different in China.
This is the 12th edition of Auto China (2014 Beijing Auto Show), the first show being held in 1990. Like Frankfurt and Paris, which alternate show venues every year, Beijing shares the spotlight with Shanghai.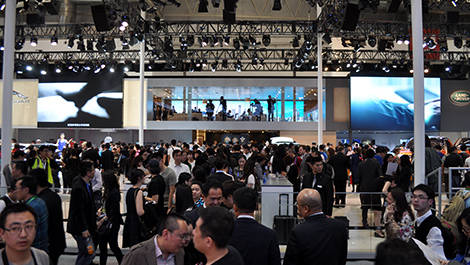 Photo: Matt St-Pierre
Here are a few more facts about what is now the premier car show in China.
There are nearly 100 makes represented at this massive show. One. Hundred.
Unlike all other auto shows I've attended in Europe and North America, this is the only one where I've ever had to be careful about opening car doors…
Press day is also VIP day which doubles as family day and fun day and whatever day. Needless to say that the show floor traffic was mental
The actual show is held through 17 pavilions at the China International Exhibition Center.
The Volkswagen Auto Group has its own pavilion because they are that big in China.
The China International Exhibition Center offers up 60,000 sq metres (645,835 sq ft) of indoor exhibiting space. By comparison, Detroit's Cobo Hall has 722,500 sq ft while the CIAS also has about 650,000 sq-ft.
More than 800,000 visitors are expected to attend (The CIAS gets just over 300,000 and Montreal, a tad more than 200,000).
Roughly 12,500 journalists from 1,500+ local media organizations attend -- out of which well over 1,000 are foreign and from nearly 50 countries -- to cover the show.
Car stats for the 2014 Beijing Auto Show are as follows: 1,134 vehicles on display; 118 world premiere vehicles (31 multinational world premieres, 45 multinational Asian premieres); 71 concept vehicles; and 79 new-energy vehicles.
List of domestic Chinese car makers on hand: Geely, Great Wall, CHERY, Brilliance, BYD, JAC, ZOTYE, Soueast Motor, Haima Motor, LIFAN, HAWTAI, GAC Changfeng, Youngman Lotus Automobile. Also, state-owned automotive groups such FAW Group, Dongfeng Motor Group, Shanghai Automotive Industry Corporation, China Chang'an Automobile Group, BAIC Group, and GAC Group are on hand.