For many, hearing that Volkswagen practically owns the Chinese car market is an odd concept. The fact is that VW's relationship with the People's Republic of China goes back a little over 30 years.
Here are a few stats on the Volkswagen Auto Group's (VAG) involvement with the Chinese market.
In 1983, the first Santana rolled off the assembly line. By 1998, the 1,000,000th Santana had been built and delivered. Eight short years later, the 1,000,000th Jetta had been built.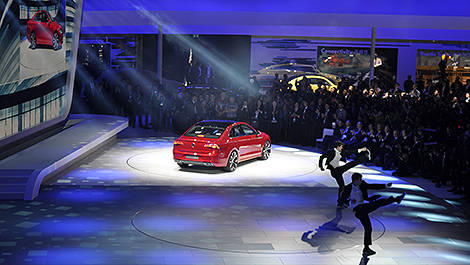 Photo: Matt St-Pierre
China's VW operations are divided into two sub groups know as FAW VW and Shanghai VW. Each function separately, selling and servicing distinct VW products. In a certain way, the way this works is not so different than GM offering both Chevrolet and Buick products.
As it stands, the VAG currently operates 17 plants in China. As of last year, the company had 2,400 dealers and by 2018, they expect to have 3,600. By comparison, VW Canada holds 136 dealers and there are 644 in the USA.
As part of this expansion, VW plans on opening a new Volkswagen brand experience centre in Beijing next year. In other words, both Shanghai and FAW cars will be found under a single roof.
As a result of all of this growth, VW expects to employ up to 600,000 people in China, 500,000 of which will be in dealerships, by 2018.
VAG on fire
In all of 2013, VAG sold 9.731 million cars, more than 3 million in China. Mind blown. This generated over 11 billion euro in profits. VAG grew 16% in China last year and so far this year, VW is on track to crush that number. Group sales in China are up 14% in Q1 2014, on par with the Chinese market that grew over 14% in the same period. Globally, the Group is up 5.8%.
In the event that you'd forgotten, VAG encompasses 12 brands and 310 nameplates. Around the world, they own 61 assembly plants, 12 that build engines, 10 put transmissions together, and 23 for components for a grand total 106 plants. This is how stuff gets done.
On the product front, the Chinese market gets world cars such as the Golf and the Polo, as well as LWB versions of existing cars (Magotan, read: European Passat, Tiguan), cars reserved for the US and China only (Passat) and China-only vehicles (Lavida, Gran Lavida, Bora -- all based on the MK4 platform). Many of the changes to the world cars are limited to interior and exterior accents such as chrome, different colours, and lights.
Beyond the actual cars, Volkswagen has a clear strategy for increasing its market share and it is based on people, namely its customers, employees, and society. On the latter portion of the strategy, the environment is high on VW's priority list -- be it recycling, resource efficiency and so on -- including all types of logistics.
Back on the topic of environment, VW offers many alternatives for the urban dweller with e-cars such as the Up!, e-Golf, Plug-in Golf hybrid 1.4 TSI, and the very cool XL1.
A few words on Audi
Audi entered the Chinese market 25 years ago. Growth over the last few years has been equally staggering. For example, in 2007, Audi delivered 102,000 units and a few short years later, in 2013, 491,989 new Audis were sold. I believe that this qualifies as success.
Much of this triumph stems from the fact that Audi was here first for most milestones. For example, meeting the increasing demand for LWB cars for both A6 and A4 L. Now, it's much about the compact luxury CUV and the very popular Q5 is built in China. Another element specifically caters to Chinese customers (such as waiting for a car while being serviced with waiting rooms, movie theatres, even a barbershop).
Larger numbers are a given with such strong growth. In 2009, Audi had 160 dealers. By 2017, there will be 500 of them. Variety is the spice of life. In 2009, there were 9 lines. Now, in 2014, there are 35 available models!
And the sky's the limit for Audi in China as well.
The question is how sustainable is this phenomenal growth and how long can it really last? Volkswagen is very optimistic, and with reason.