GM's new heavy-duty line of pickups is a significant update over its predecessor. While most changes were for the better, there are still some lingering issues that carry over from the previous generation.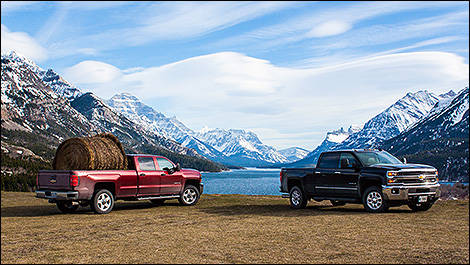 Photo: Mark Stevenson
10. The Good: They are "library quiet"
Back in the day of barebones work trucks, it was hard to escape the loud diesel under the hood, noisy suspension, and every other auditory nightmare. However, with the new HD trucks from General Motors, the cabin is incredibly quiet.
While you can still hear the Duramax diesel mill working away to some degree, you won't be inundated with unwanted noise, vibration or harshness on long highway hauls. A lot of this comes down to more sound-deadening material and new inlaid doors. Improved aerodynamics also reduces wind noise while stretching out each tank of fuel.
9. The Bad: No engine changes
Unlike their light-duty brethren that received a full line of new engines, the heavy-duty GM lineup continues on with the 6.0L Vortec gasoline-fed V8 and 6.6L Duramax diesel-powered V8.
There is nothing really
wrong
with these engines, mind you, but it would have been nice to see some updates, especially on the gasoline side of the equation. With the new 6.2L EcoTec3 V8 producing 420 hp and 450 lb-ft of torque, it seems like the ultimate choice, especially with direct injection and cylinder deactivation. However, GM representatives at the media drive stated customers of heavy-duty trucks don't see the benefit of these technologies.
8. The Good: You can pair up to 10 Bluetooth devices
When I first read about this in the light-duty trucks, I didn't make much sense of it. However, in a fleet application this makes things so much easier if your drivers rotate through vehicles.
While only one device can be active at any given time, Chevrolet MyLink and GMC IntelliLink allows up to ten devices to be paired, which in turn makes it easier for your employees to use different vehicles each day. Instead of having to pair their phone every morning (and deleting another device in the process), they can just hop in the trucks and go. Simple.
7. The Bad: The crooked steering wheel
While GM has given the new trucks a brand new cabin and body, the underlying architecture of the trucks is still the same. And with that comes the same packaging and hard points.
The steering wheel is ever so slightly angled toward the left. Not enough to hinder operation, but enough to notice and make you wonder, "Why?"
6. The Good: Best-in-class towing and payload*
The duo of GM heavy-duty trucks offers best-in-class payload (3,508 kg/7,374 lbs) and conventional towing (8,890 kg/19,600 lbs) capability in the heavy-duty class, when properly equipped with the single rear-wheel axle setup.
However, with manufacturers dictating their own testing regimes, these numbers may not represent an apples-to-apples comparison.
5. The Bad: Only 765 lb-ft of torque in the 6.6L Duramax V8 turbodiesel
The Silverado and Sierra have the lowest engine torque output in their class. RAM's 6.7L Cummins turbodiesel produces up to 850 lb-ft with the 6-speed automatic (only 660 lb-ft with the manual 6-speed) while Ford's 6.7L Power Stroke turbodiesel makes almost 100 lb-ft more torque than the Duramax -- 860 lb-ft, in fact.
4. The Good: Best-in-class interiors
As far as the main-line trim models are concerned, the interiors in the Chevrolet Silverado HD and GMC Sierra HD are second to none. General Motors really upped their game inside the cabin, offering a comfortable environment with well designed, easy to operate controls.

3. The Bad: Only one rear gear ratio available on Duramax-equipped models
Ford and RAM offer up multiple rear gear ratios for their diesel-powered HD trucks. The GM offerings only have one ratio -- 3.73 -- on the Duramax-equipped trucks.
2. The Good: More power points than you could ever need at any given time
Depending on which option packages you tick, the Silverado and Sierra have a bunch of USB ports and some conventional household outlet power points throughout.
1. The Bad: MyLink/IntelliLink is frustrating
If there was one weak point in these trucks, it's the infotainment systems. Chevrolet MyLink and GMC IntelliLink are definitely behind the 8-ball when it comes to trends in the marketplace, especially when up against Ford. Not to mention the sheer frustration encountered when operating the system if you have to change any settings. Thankfully, most of these systems are meant for "set and forget."