Every year, Car and Driver publishes its list of the best vehicles of the year. Note that in 2020, the magazine changed its process somewhat, condensing its previous separate lists for cars and for SUVs/trucks into one Top 10 ranking. The result is a smorgasbord of excellence that swings wildly between categories as you move through the list. Here are the 10 models identified as the best for the coming 2022 year by the publication for the 40th edition of its awards... with our little grain of salt added for good measure.
Car and Driver restricts models under consideration to those with an MSRP of $90,000 (USD) or less, and only those that are all-new or substantially revisited. The magazine's jury members spent two weeks testing and evaluating a panoply of models (that being 67 this year, to be exact) on a 100-point scale. Here are the ones that came out on top, presented in alphabetical order.
Shopicar.com, 100% online, shop for your next car, buy online and get it delivered to you anywhere in Quebec!
Cadillac CT4-V Blackwing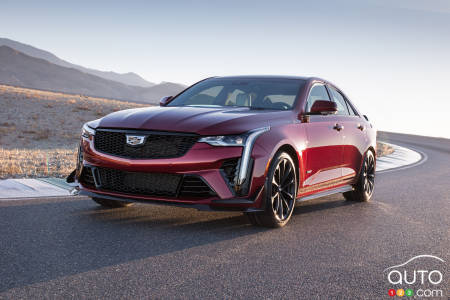 The smaller of Cadillac's two performance sedans is sharp enough in its regular V edition, but the Blackwing edition takes things to another level for the luxury brand. Now, yes, it's fairly luxurious (though not overly so), but most potent is the 472 hp it offers drivers who want to go fast while they're sitting in the comfy wraparound seats.
What C&D liked:
- The CT4-V is priced so much more affordably than the larger CT5-V Blackwing that buyers should seriously consider just forsaking the extra horsepower and space available with the latter.
- Effective magnetic dampers calm the car on skittish roads
- Very nimble on corners
- Intimate feedback from the steering
- Biting brakes
- There's an available 6-speed manual
- Overall driving joy
"Buying this car says you understand and know the difference between what has a good reputation and what's actually good."

- Car and Driver