Face facts. Fall is well and truly behind us. And while a good set of winter tires renders almost any vehicle capable of least muddling its way through winter, it never hurts to have yours equipped with all-wheel drive. Like always at this time of year, and due to popular demand, we present here 10 pre-owned car, SUV and truck models that are available for less than $5,000.
There are of course many other options out there beyond these, with both two-wheel and four-wheel drive configurations. But for those on a tight budget or who want an affordable second car in the driveway, here is the best of what's out there for winter 2019-2020.
Auto123 launches Shopicar! All new makes and models and all current promotions.
Suzuki SX4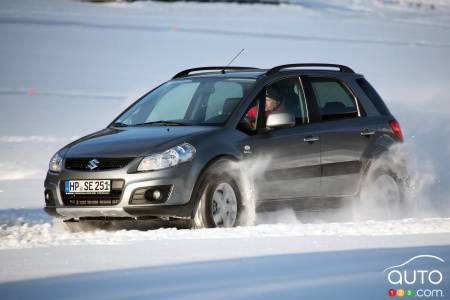 It's been a while now since Suzuki disappeared as a new-vehicle brand in Canada and even in North America. But it's still possible to find a small all-wheel-drive SX4 on the used-car market.
The reliability of this little guy has been proven over the years, but those who've driven it have also been won over by its ability to handle snowy conditions. What's more, it can be had with either an automatic transmission or a manual gearbox.
"There are some hidden ''gems'' in today's mine of compact cars. The 2011 Suzuki SX4 Hatchback is one of them… because of its price, value, practical interior and pleasant road manners. And of course the option of all-wheel drive."