Auto123 presents three rankings of the Top SUVs in Canada for 2023. Today, our Top 10 Compact SUVs in Canada in 2022-2023 - with one extra as a bonus!
See also: Top 10 Subcompact SUVs in Canada for 2023: Our Top Small Crossover Picks
See also: Top 10 Mid-Size SUVs in Canada for 2023: Here Are Our Picks
Once again, we give you our view of the best compact SUVs available on the market in Canada as we head into 2023. This highly competitive segment boasts several sure-fire names, but also a few models that might not be on people's obvious shortlists - and perhaps should be.
Designed on the whole as practical and versatile options for young families, these compact crossovers and SUVs are more affordable than the midsize or compact sedans on which many are based, but they have the advantage of greater height and offering all-wheel drive as a rule and not an exception.
Like in our list of the top subcompact crossover/SUV choices, the order of appearance on the list is irrelevant. Simply put, the vehicles on this list are all very good choices.
Without further ado, here is our list of the top 10 compact SUVs in Canada for 2023, with one extra thrown in, because.
Browse cars for sale available near you
Ford Escape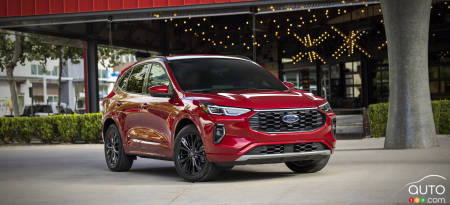 The Ford Escape really needs no introduction. This is a model that largely dominated the compact SUV category when it was in its first generation in Canada in the early 2000s.
Over the years, however, the likes of the Honda CR-V and Toyota RAV4 have pushed the American SUV further down the list.
For 2023, the Escape arrives at a point where a mid-cycle redesign has become wise if not necessary, and so the model changes slightly at the front and at few spots elsewhere. The offering also now welcomes a new ST-Line trim.
Under the hood, the SUV is once again available with two internal combustion engines, a two- or four-wheel drive hybrid option and a front-wheel drive plug-in hybrid version.
See also: 2022 Ford Escape PHEV Review: Hey, What About Me?
See also: 2022 Ford Escape PHEV pictures