As the biggest car show in the country, it's only natural that this is where the largest number of premieres and unveils would take place.
As we continue our coverage of the event, we've put together another list of hits and misses that many of seem to have appreciated. This time, we've selected 10 vehicles out of the three dozen that were presented and those giving you their opinions are Lesley Wimbush, Mike Goetz and Matt St-Pierre.
2012 BMW 6 Series Cab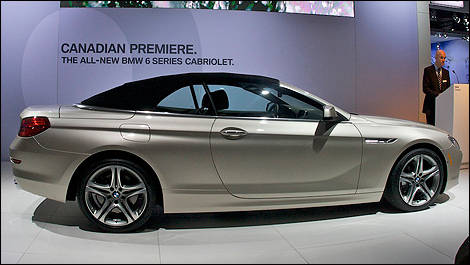 2012 BMW 6 Series Cab (Photo: Michael Wong)
Matt:
Hit. I've laid eyes on the new 6-series, be it cabrio or coupe, on many occasions at this point and I must admit the big 2-door is starting to make me hot under the collar. It's unlikely that I'll ever find the need to purchase a coupé but if ever I did, I'd swing by my local BMW dealership and pick one of these up before considering a Maserati or Mercedes-Benz.
Lesley:
Hit. Even prettier than it appeared in preview photos. Present day Bimmers have evolved from the jarring Bangle-bodied angularity of the past to sophisticated and well-tailored – yet still maintaining that edgy athleticism. And what could be better than taking your German corner-carving al fresco? More than merely pretty the
6 series Cabriolet
is fleet-footed too. The 50i nomenclature refers to the 4.4L twin-turbo V8 underhood. Mated to either a 6-speed manual, or 8-speed auto, the big V8 puts out 400hp, with an estimated 0-100 time of 4.9 seconds.

Mike:
Miss. The 6 Series seems destined to always be an acquired taste — even this intriguing new convertible. To me, a full-size GT should be beautiful, but the 6 Series seems intent on being mostly clever and complicated. We applaud the choice of a fabric top, however, which is crafted to BMW's high standards and works beautifully. Legroom is tight in the back for such a large car.