Canadian launch of production-ready Dodge Challenger and Ram pickup in Toronto
The production version of the Challenger is currently on display at the Toronto Auto Show. The SRT8 model will be the first on sale, powered by a 6.1-liter V8 that develops 425 horsepower and 420 lb-ft of torque.
Unlike the SRT Charger, 300 and Grand Cherokee that share the same engine, the Challenger will get a 6-speed manual transmission. Chrysler claims 0-60 mph (0-96 km/h) times in the low 5-second range as well as a quarter-mile time of under 14 seconds.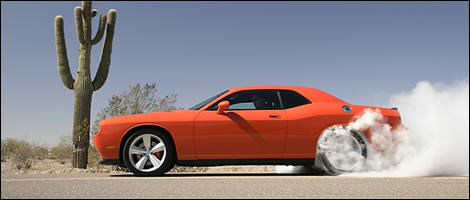 2009 Dodge Challenger SRT8
Available in limited numbers, the Challenger SRT8 will feature a dash plaque and a choice of three exterior colors: HEMI® Orange, Bright Silver Metallic and Brilliant Black Crystal. The built-in-Canada Challenger will also be offered in R/T trim with the 5.7-liter V8 as well as a V6-powered base model.
The Ram gets a makeover as well as mechanical upgrades. Chrysler promises surprising ride and handling capabilities with its new rear suspension, and the Ram gets the lowest drag coefficient in its class--0.419 Cd.
Among novel features is cargo bins integrated in the bed rails that are lockable, illuminated and drainable. The Ram also gets a slew of optional comfort and features, such as cooled seats, a heated steering wheel and a surround-sound system.
The new Ram will be on sale this fall. Diesel models will follow, and a two-mode hybrid version will turn up in 2010.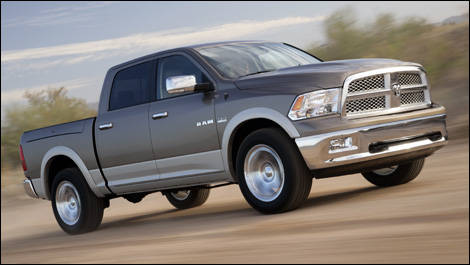 2009 Dodge Ram
photo:
Chrysler