Toronto, Ontario
- The largest Ferrari Maserati dealership in North America will soon be built in Vaughn, a few kilometers north of Toronto. Construction work for the new facilities, which started at the end of last year, will give birth to the first Ferrari Maserati dealership to meet the new architecture standards of the Fiat division in North America.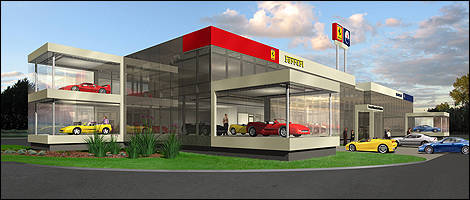 Sketch of the new Ferrari Maserati dealership in Vaughn, Ontario.
The opening of the Vaughn dealership is scheduled for this fall. It will replace the current facilities in North York, a short drive away. The ultra-modern building will stretch over 70,000 square feet and house a total of 15 cars in separate showrooms for both brands. The interior lobby at the Service department will be large enough for eight models, while the repair shop will include 15 service bays. Furthermore, the underground parking lot will offer 70 parking spaces.
These new facilities will also feature a luxurious waiting room for customers, a gear shop as well as an exhibit area highlighting the rich history of both Ferrari and Maserati. The official dealer, Mr. Remo Ferri, said that his new dealership will boast "special departments dedicated to motorsports and vintage car restoration, two activities in which Ferrari is highly involved."
The former will naturally serve his own racing team, R. Ferri Competizione, not to mention other drivers participating in various championships like ALMS and the Ferrari Challenge Series. Meanwhile, the latter will put an emphasis on the newly-created "Ferrari Classiche" program, which provides Certificates of Authenticity to owners of Ferraris that are over 20 years old. This will be a first in Canada.
A new dealership in Alberta
In other news, Remo Ferri is set to open another Maserati dealership, this one in Calgary, Alberta. It will be the brand's fourth dealership in the country, after Toronto, Montreal and Vancouver (the latter two also sell Ferrari cars).
According to sources close to Mr. Ferri, the Albertan dealership will be able to serve new Ferrari buyers and current owners, but most importantly, it will allow the dealer to prepare for the upcoming arrival of Alfa Romeo products.
In case you haven't heard, during a recent meeting between Fiat Group executives and Ferrari Maserati North America dealers, the return of the Alfa brand has been confirmed. However, the first model to be sold on our shores won't be the high-performance 8C coupe -- homologation for this car in Canada is reportedly prohibitive. That said, company execs have told journalists that a new generation of mass-production vehicles is currently being developed. Our sources tell us that it includes the future 159 sedan, the Spider convertible and the Brera sports coupe.
photo:
Philippe Champoux