Toyota's Hilux has now travelled further on an Antarctic trek than any vehicle of its type, with 9,500 km behind it — and all without any technical glitches.
The feat was achieved as part of a double trans-continental crossing organized by Extreme World Races, and is the longest expedition in polar history. Hilux has now reached both Magnetic North and South Poles.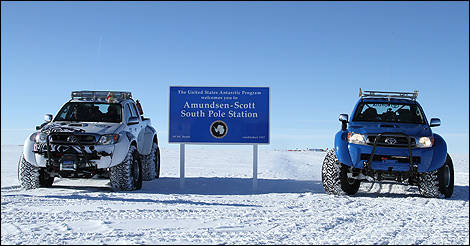 Photo: Toyota
The Hilux, specially engineered by Icelandic conversion specialists Arctic Trucks to take on temperatures that dipped as low as -50 degrees Celsius and harsh terrain above 3,400 m, managed with a standard 3.0L D-4D engine and transmission.
Three Hilux including two 6x6 models, completed the expedition running on Jet A-1 fuel to cope with the cold. The nearly 10,000-km expedition took four months, from November to February this year. In all 10 Hiluxes were entrusted with setting up a fuel depot and weather station and providing support to scientist and competitive (and one might assume, masochistic) skiers.
Modifications included larger fuel tanks (280L for the 4x4s, 800L for the 6x6), strengthened suspension and drivetrain, crawler gears added to the transmission, and extra large tires.