Toyota has announced some significant revisions to the TRD PRO version of its 4Runner SUV for the 2019 model-year, and is raising the model's pricing by some $3,300 USD.
We still await confirmation on what it means for Canada, but if our edition gets the same revisions, we can expect an increase of about $5,000 CAD.
This seems pretty harsh at first glance, given that the 4Runner in its current form dates back almost 10 years. If anything, we should be getting a price reduction. Toyota is going the opposite route, however, and since the model still sells well, thanks in good part to its uniqueness on the market, the company is taking full advantage.
And in the 4Runner lineup, it's the TRD PRO that most lights up the eyes of off-road driving enthusiasts.
In American dollars, the 2019 model's starting price jumps from $44,120 to $47,460, a hefty increase. It should be noted that these prices include transport fees, which in the U.S. amount to only $1,045. The other 4Runner models will see their asking prices go up marginally, by about $100 each.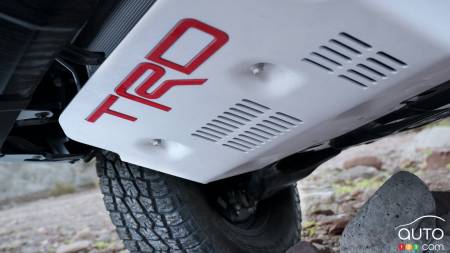 Value
This kind of price increase leads to the obvious question: Is it justified by the upgraded content being offered?
First of all, it should be understood that the suspension of the TRD PRO has been entirely reworked for 2019. The Bilstein shocks have been dumped in favour of Fox-brand shocks that feature supplemental reservoirs.
17-inch alloy wheels with matte-black finish are also new, as are the skid plates under the chassis and the special Nitto tires, designed for extreme off-roading. Three new colour choices have been added to the catalogue: Voodoo Blue, Super White and Midnight Black Metallic. Our tester during our recent test drive of the 2018 edition of the 4Runner TRD PRO actually had the first of those colour finishes.
You might think that this kind of price increase would scare off potential buyers, but Toyota knows what it's doing. Competition in this segment has grown very thin, in fact it begins and ends largely at the Jeep Wrangler. And that model is quite expensive, not to mention that wait times for delivery are significant.
Which means that Toyota has little to lose and a lot of profit to gain by boosting the price of the most popular variant of its off-roader.
People who shop for this type of vehicle know what they want, and if the automaker provides them with more content, they're willing to pay.